May Day
by David Forbes
May 8, 2015
Local groups rally around labor, public housing, immigrants' rights, fair wages and more to mark May Day in a changing Asheville
Above: A red flag flies above the crowd gathered at Asheville's May Day rally as protesters listen to speakers talk about labor and social justice issues. Photo by Max Cooper.
Around the world, May 1 is marked as International Workers Day. For many countries, it's a holiday and a common time for labor and leftist demonstrations. A week ago, about 60 to 70 people gathered in Asheville to mark the occasion and speak about local and national issues.
"Since the creation of wage labor, people have fought against it," Archer, the event's first speaker, said in a summary of the day's history. "The alienation, isolation, exploitation and gross under-compensation contradict the very thing that makes us human: our ability to work together to meet our needs."
May Day grew out of strikes in the 1884, fighting for an eight hour workday and unions, as well as the ensuing arrests and execution of radical labor leaders following the Haymarket massacre.
But in the United States, she continued, "because the one percent doesn't want us to remember that it happened on this soil," it didn't become an official holiday. Here, May 1 is technically Law Day, though you'll be hard-pressed to find any events marking that other than the occasional official proclamation. Labor Day here, unlike much of the rest of the world, takes place in September.
As a city where the main part of the political culture usually runs from moderate Democrat to leftist, it's perhaps not surprising that Asheville has its own history with May Day.
In 2006, 3,500 people rallied in Asheville on May 1 to support immigrant rights, part of larger national demonstrations, and the largest protest Asheville had seen in years. That rally resulted in a lawsuit as organizers, with the help of the American Civil Liberties Union, claimed that the city had charged permit fees so high that they constituted a violation of the right to protest. The protesters later won, as the city settled the lawsuit and agreed to overhaul its rules.
While 2010 saw several larger peaceful protests, a small group later vandalized stores and cars around the Grove Arcade area. Eleven people were charged, later known as the Asheville 11. Two years after, three plead guilty to misdemeanors and charges against the rest were dropped.  The incident was a target of criticism from some other anarchists and leftists while others asserted that the accused deserved support.
The 2012 May Day protests, on the heels of the local Occupy movement, saw a particularly large turnout, with about 100 people marching through the streets of Asheville.
This year's event was notable because its speakers didn't come from a single cause or movement, though many had some themes in common and many of the issues emphasized in previous years, like immigration rights, were also . Instead, representatives of a number of larger, existing groups — many formed recently — rallied around a variety of issues while presenting their remarks as part of a single event. Specifically, many of the groups deal with labor and civil rights issues at a time when those have become more prominent in Asheville, as people across the city face stagnant wages, a rapidly rising cost of living and controversies about working conditions and de facto segregation.
Johaunna Cromer, of the local chapter of Raise Up for 15, asserted that the time had come for better wages and protections. The group is a regional movement that seeks $15 an hour and a union in underpaid sectors, particularly fast food, as a way to raise wages and working conditions.
"We want $15 an hour, we can't survive off $7.25," she said, adding that many of the college students about to graduate would end up in these service jobs too and will need better wages and union protection to survive.
A speaker from Nuestro Centro weighed in on immigration and labor, asserting that many in Asheville's immigrant community simply want equal rights, and that their concerns were tied to working conditions in the city.
"As an immigrant woman of color, I still face challenges of equity and opportunity," she said. "I'm concerned about not having enough money to cover the basic needs of my family. We have wages that are not reasonable to make a living. I'm also concerned about racist laws that segregate me, my family and all the immigrant communities in the state. This state has become one of the worst for immigrants in the United States."
"We are not criminals, we are not here to steal or to beg," she continued. Instead, they wanted an opportunity to build lives after having to flee countries, like El Salvador, where the U.S. government played a role in "creating a world where many of us had to leave our countries."
"Humans should have the right to pursue happiness anywhere in the world," she added. "I think that unity of all of us, no matter what race, or any other difference that might be, must happen" and must send the message that "it's not fair what's happening to our communities."
Alia Todd, one of the leaders of the Asheville Sustainable Restaurant Workforce, formed last year to better represent service workers, said the group aims to press for a living wage at local restaurants and protect workers' rights, something they've claimed are missing despite Asheville's "foodtopia" reputation.
"Asheville's economy depends on restaurant workers, on all workers," she said. "We believe that workers, owners and diners all exist in a symbiotic relationship for success."
To that end, ASRW is pushing for a living wage, better protection for workers' legal rights and paid sick days.
"I'm a longtime service industry worker that's disgusted with the current system and the lack of representation," Todd said.
Representatives of the Coalition of Immokalee Workers asserted that they would soon start a campaign against the newly-opened Publix in Asheville, along with Wendy's, to highlight some of the businesses that did not participate in a verification program to ensure that farm workers are paid well and their rights respected.
Julia de la Cruz, a farm worker speaking through a translator, asserted that "we target these two corporations because we know that if they come on board with this program the rights we've won for workers will be strengthened."
Calvin Allen of Ujamaa Freedom Market spoke on cooperative economics, asserting that it was a way around some of the issues workers here face from traditional business.
"That way you don't have to worry about a boss, about who's telling you what you can and can't do: you and your co-workers decide that on your own," he said.
"I participate in them that it's right for people who own a business to extract the value from our labor and then recoup profits from a place they don't work at," Julie Schneyer of Firestorm Cafe, a worker-owned book and coffee shop that recently raised the funds to re-open, said.
Both highlighted new attempts based around the Center for Participatory Change to strengthen and better coordinate the area's cooperative businesses.
Keith DeBlasio, acting President of the Hillcrest Residents Association, highlighted prison labor as a place where people work for "pennies a day" for the profits of private companies.
"They get benefits from the federal government of free security, facilities, management and even payroll," DeBlasio said. "This is an issue that has to be addressed when we start talking about labor."
Then, when these prisoners served their time, they find they can't get a job and, if they committed a drug offense, were also ineligible for public assistance.
Bella Jackson, speaking for the Public Housing Advocacy Coalition, highlighted the fight over controversial changes — known as the Rental Assistance Demonstration program — to the funding and management of Asheville's public housing, home to 3,100 people.
"Everyone who lives in Asheville knows that workforce housing is fucking crisis," Jackson emphasized, but many didn't know about the fight over "a step toward privatization" in adopting the RAD program.
"After Oakland shifted to the RAD program within less than a year they sold one of their largest projects," Jackson continued. "While Asheville and the Housing Authority tell us this will not change the way we operate, we can see by how this program is rolling out across the nation. We have to stay on top of them."
"Right now in Asheville, no one can afford to live on a minimum wage," she said. In public housing, "there's a bus driver that lives next to me, there's Little League coaches. This is our workforce housing. This is not any of that welfare queen shit like they'll sell you on TV. This is where the workforce lives. Losing community access to privatization is a serious loss."
She also called for unity among the various groups present.
"There's a greater, larger war: the side we're all on is people versus profits, humanity versus inhumanity, it's labor versus capital," she said. "When we get to the human side, the battles we're all fighting, it's really messy, because we're messy, we're human."
So "in this war don't criticize your comrade's battles. The people who spoke before me, the way they're fighting their battles may not be the way you would fight it, but we have to support each other, she continued. "Don't let ideology be the enemy of solidarity. This war is way too serious to take our eye off the enemy."
Activist and former mayoral candidate Martin Ramsey (also an occasional Blade contributor) delivered the closing remarks, saying that unless real improvements take place, everyone faces a bleaker future.
"The world is in crisis, our political system is detached and unresponsive," he said. "People need homes, and they get hotels. There are fewer and fewer jobs, and fewer still that mean anything, that empower us and build concrete social goods in our homes and communities."
Even tepid, common-sense reforms, he added, end up blocked, "so we have to adopt more radical strategies."
"We need you to fight for the future right now," he said. "Get to work wherever you can. Join an anti-racist organization. Organize for fair and affordable housing. Join unions, agitate within them and organize them where they don't exist. Join the fight against climate change. Black lives matter, here, there and in Baltimore. Donate to the legal defense funds if you have money. That's what we need do: draw lines of solidarity between our movements while respecting their self-determination"
Ramsey also said that "we men, we white folks, we straight folks" need to "step up and step back and listen and act in solidarity with marginalized people and their organizations and not turn it into a circular discussion about white people's problems."
Despite "truly frightening prospects lie before us" there were opportunities if people were willing to create "a nest of organizations, all fighting heads of the hydra" in cooperation, but "there is no alternative."
After the speakers had finished and some attendees had left the rally, one man showed up across from the rally holding a sign for National Youth Front, a white supremacist hate group. Several of the May Day rally protesters went over to confront him, and he started backing away toward the intersection of Broadway and College. After a brief scuffle there with some of the protesters, he quickly ran away.
Back near the Vance Monument, there was brief discussion between some of the protesters over whether confronting the NYF member was the right course of action. Shortly after about 20 people marched in a loop through downtown and back up toward, shouting slogans and, at some intersections, briefly blocking traffic.
There was no police presence until the end of that march, when an APD sergeant and several other officers came up to the remaining protesters and asked them not to block traffic when they protested in the future.
Below are some photos of the local May Day rally, its speakers and attendees by Blade photographer Max Cooper.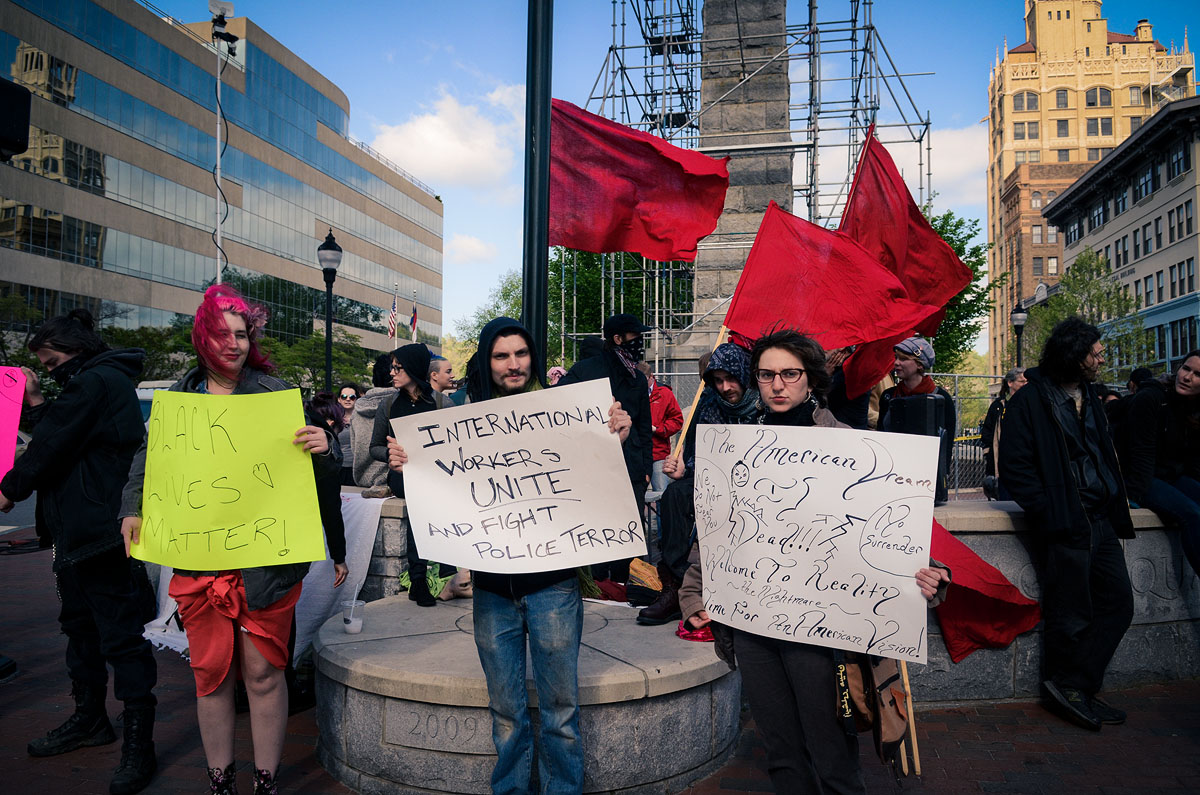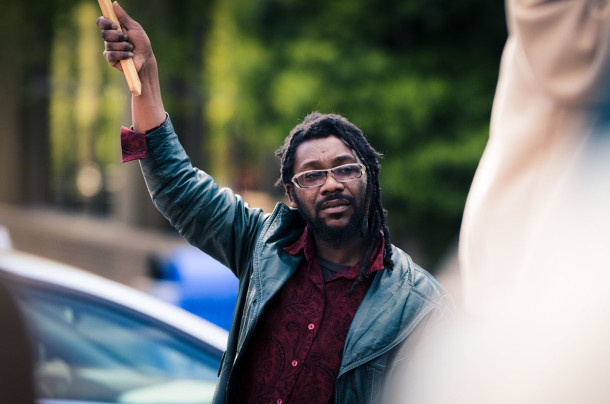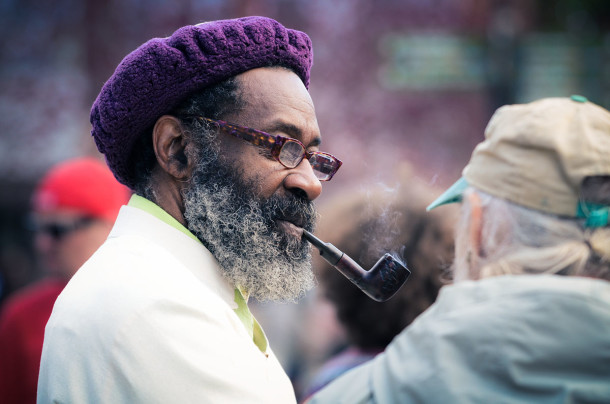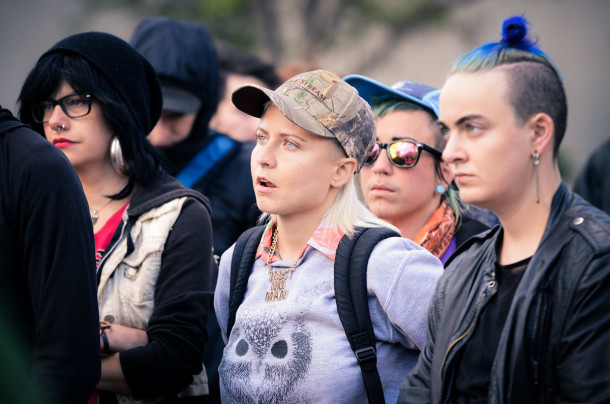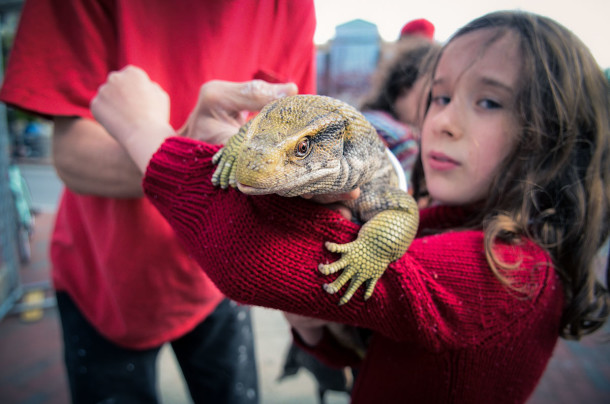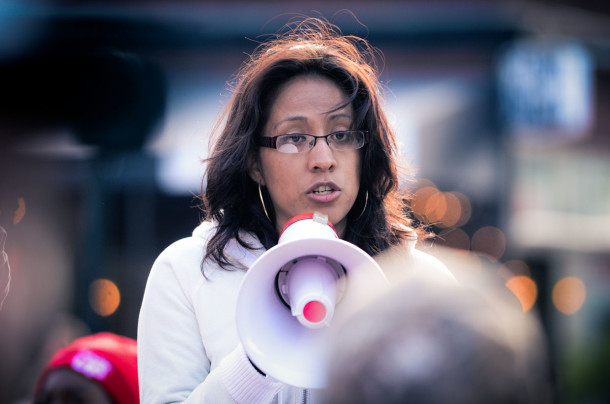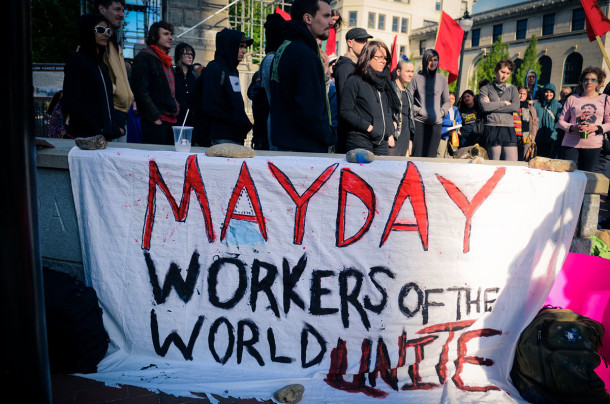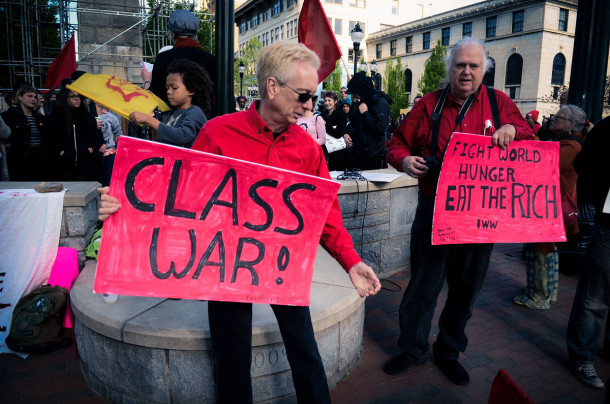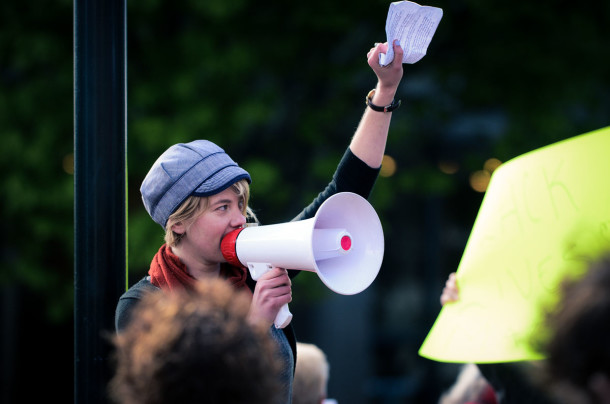 —
The Asheville Blade is entirely funded by its readers. If you like our work, donate directly to us on Patreon. Questions? Comments? Email us.