Live with it
by David Forbes
October 11, 2015
After months of wrangling, Council passes a living wage for all city workers. The bond companies also weigh in, with a very different vote of confidence
Above: Asheville City Council member Cecil Bothwell. File photo by Max Cooper.
Two matters of money dominated the relatively short Sept. 22 Asheville City Council meeting. One affected the pay for up to 350 city workers who previously made below a living wage. The second dealt with the exact opposite end of finance: how the bond markets view loaning money to our local government.
But whether paycheck or line of credit, during this meeting it came down to cash.
Paycheck to paycheck
Last year, a Blade investigation highlighted that numerous city workers — about 150 to 350 depending on the season — were paid below the living wage, sometimes well below. These workers, tagged as "temporary or seasonal," included much of the staff at the U.S. Cellular Center, parks and rec laborers, crossing guards and more.
The living wage in Asheville — the amount necessary to make ends meet without public or private assistance — is $12.50 an hour without employer-offered health insurance, and $11 an hour with. While the city has committed to paying its full- and part-time workers a living wage since 2007, these employees were left out. Despite the name of the category, many of the workers were neither temporary nor seasonal. Anyone who worked for the city for 20 hours or less a week was categorized as "temporary or seasonal" regardless of how long or regularly they did so. Some of the workers paid below living wage had even worked for the city since the '70s or '80s.
In the months following, as the city began its annual budgeting process, a majority of Council members committed to changing this. Just Economics, the nonprofit that determines the living wage, also weighed in during the budget hearings, pushing for a raise. But some senior staff pushed back and even after $250,000 for the raises was passed as part of the budget, there was an attempt to "distinguish within the pool," in City Manager Gary Jackson's words, and still leave some of the "temporary/seasonal" workers out of a raise. Meanwhile, one of the civic center workers who originally spoke up about the issue was fired.
But on Sept. 22, Council was set to pass a raise to at least $12.50 an hour for all of those workers. The step would even extend back to this July, meaning workers would get paid for their summer labors. The matter was on the consent agenda — a list of routine items usually passed on a single vote, usually unanimously — so passage looked assured.
However, not everyone on the dais agreed, which meant the item was pulled for a separate vote. Council member Jan Davis said he was concerned about the cost of such a raise, claiming it might lead to lost positions or cut hours, especially at the civic center.
"I think we have to be cognoscent too that department directors are working under the terms of a budget," Davis said. "My concern, quite frankly, is that in the civic center's case you're going to be scaling back hours, cutting back hours."
"I'm going to be voting against this not because I'm against a living wage but because some of these temporary and seasonal employees would rather have the hours."
Davis said that the Civic Center Commission had discussed the issue at length and "there was a feeling around the table" that cuts to meet the higher wage rate might hurt business and the city's goals of operating the center at a profit or minimal subsidy.
Vice Mayor Marc Hunt noted that Council had approved $250,000 to elevate employees to a living wage without hour or pay cuts.
"This item is fine-tuning that policy," he said. "The budget seemed to reflect sufficient money to elevate everyone to a living wage, including temporary and seasonal. To what extent is there a problem within departmental budget?" he asked Jackson.
"In the case of say, the swimming pool operations you have fees and charges there, in the case of the civic center you have the price of a ticket, booking, what you've been charged to have sufficient folks there to staff the event," Jackson said. In this case, the increased pay had boards like the one that oversees the civic center considering raising prices to offset the costs. He added that he would be back before Council with recommendations on that front in the coming year and "as the costs go up it will trigger this discussion in the Fall to get into the budget cycle in the Spring to do those fees and charges to maintain the same rate of recovery from the users."
"Councilman Davis suggested this was going to mean cutting back hours or firing people," Council member Cecil Bothwell replied. "It was my understanding that the intent was to pay the people we have employed and to raise their wages for the hours they're working, not to cut employment. That was all news to me."
"There are options to reduce that, but those options, to me, point to reduced hours, they talk about raising the ticket fee, we already charge one that isn't competitive. There are ways to raise revenue and that's something we'd have to deal with. We'd be putting a burden on staff in this next period of time, so they're going to have reduce some hours or cut some positions."
"Then what was the $250,000 for? We allocated an extra $250,000 to cover those raises."
"I don't mean to get in the middle of your debate," Jackson said. "I would like to clarify that there is no plan by your administration to cut hours or discontinue anyone's employment during the current fiscal year."
But he continued that staff were obligated to look at making up the cost of the raises and that there are "different ways to staff events," like using outside contractors (who don't have to pay their employees a living wage) but "there's no plan in place that I'm aware of to stop calling in people who are no working at a higher wage."
"But to be fair to both sides of this debate as Council member Davis points out, there's this pressure to perform that's placed upon the managers and they will start looking for what's the most cost-effective way to deliver these services."
Council member Gwen Wisler was supporting the raise, but was concerned it would lead to less internships for CAYLA because of the higher wages.
"Now you're going to pay high school students who are living with their parents, who are covered under their parent's healthcare plan, etc. a substantially higher wage it is going to put pressure on that program," she said. "It's going to put pressure on the CAYLA program and that doesn't make me very happy but I also don't see it as a reason not to vote for a living wage across the board."
"Tradeoffs," Hunt said.
"I'm really proud we're taking this step today," Council member Gordon Smith said. "I think it was the step that was intended when we adopted a living wage policy and I feel like we're fulfilling the promise made to the community back in 2007 that we are going to be a living wage organization, that we are going to be a community leader" at time when many in the city are having trouble making ends meet due to low wages.
"It's saying that work has value, labor has value and we're not going to undervalue the work or the people who do it," he continued. "We're inviting the rest of the community to join us and I'm really grateful to have so many living wage providers across the community — yourself included, Jan — who continue to find ways to do this."
Council member Chris Pelly also supported the move, noting that as the city tried to attract jobs with good pay, "we have to lead by example but as you can hear from the back and forth it's not an easy decision, but I think it's important."
"And I would press for $15, just saying," Bothwell said.
Davis, who isn't running for re-election, cautioned Council to remember his concerns next budget cycle and the pressure placed on the city's department heads. They then approved the raise 5-1, with his dissent. Mayor Esther Manheimer was absent for the Yom Kippur holiday.
Just two weeks later, the civic center's official Twitter account declared the following: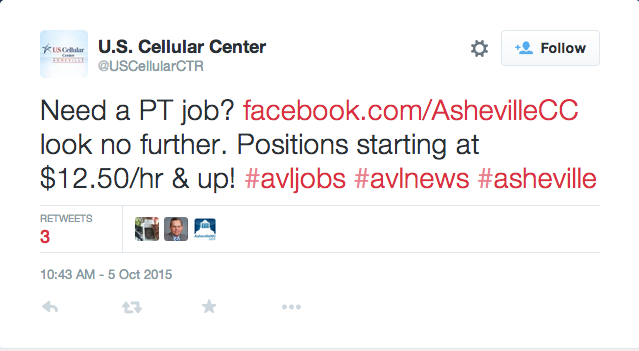 Of municipal bondage
Council was more unanimously happy about the next bit of news. Like every city, Asheville borrows money for a variety of reasons and how its viewed by the agencies that rate its financial security is, in some ways, as key as its relations with state and federal government. For now, that debt will come with more flexibility and better rates, as Standard & Poor, the massive financial services company, bumped up the ratings for its general bonds to AAA.
Financial Director Barbara Whitehorn claimed Council and Jackson's leadership were "the key things that got us into this elite group of cities."
"How does it feel to the best?" Doug Carter, of DEC Associates, the Charlotte firm that serves as the city's financial advisors, said to Council as they chuckled in reply.
"The phoenix has risen from the ashes," Carter continued, referring to Asheville's decades of paying its way out of its Depression-era bankruptcy. The rating, he noted, put Asheville in a group with Charlotte, Raleigh, Winston-Salem, Durham, Greensboro and other metropoli across the state.
"You have joined an elite group of people who have managed their way to highest credit quality," Carter said, allowing the city to better weather financial crunches or crises. "The need for highest credit ratings is not simply savings on interest, but really access to the market, because in bad times everybody only goes for the best."
It also gained the city "respect," he claimed, citing the report on the raising of the bond rating praising Asheville for its management, its budgeting, reserves and its amount of debt. Also, he said the financial companies looked favorably on Asheville having a system that put much of the day-to-day power in the hands of a city manager, something they viewed as "institutionally strong."
He did note that the city could still make improvements on its level of reserves and the level of per-capita income in the area, but the AAA designation was a vote on confidence in its management, specifically in comparison to
"This is a bit of a moment of celebration, I think," Hunt said. "It's great to be able to deal with the community and say: we manage finances really well, we're very efficient, we're very reliable."
Hunt added his praise for Jackson and the city staff, noting that "management does 99 percent of the work."
Earlier this year proponents of a tax increase on Council asserted that it was in part necessary to keep or improve the city's bond rating, and that making up lost funds due to state law changes from reserves might put that in danger.
Pelly, an opponent of that increase, asked if that was really the case, saying that he had concerns as a "steward for the taxpayers."
Carter replied that the higher rating would give the city the abilit "to be nimble on your feet when 2008 comes again" and when the city lost state revenues, the financial companies looked favorably on "long-term solutions to things that had been done to them," like the tax increase.
"You proved that you met the mettle," he said.
Smith asked if this would mean the city could fund more improvements, and Carter replied that was a possibility.
"As far as the person on the street, what they're going to see is more of something, to be determined by future Councils," Smith said. Council and the assembled staff then broke into applause.
"We're actually getting pretty good at standing ovations," Hunt concluded.
—
The Asheville Blade is entirely funded by its readers. If you like our work, donate directly to us on Patreon. Questions? Comments? Email us.