Power and the tower
by David Forbes
January 18, 2016
A divided Council decides on a 'McKibbon standard' for new hotels, approving an overhaul of one of downtown's most notorious buildings
Above: Council member Gordon Smith. File photo by Max Cooper.
After the hibernation of the holidays, city politics sprang back to life again on Jan. 12 as Asheville City Council returned to its dais.
The chambers were packed for a variety of reasons, including Indigenous Peoples' Day and the first steps in the overhaul of the Lee Walker Heights public housing complex.
But looming over most of the meeting figuratively (and over Pack Square outside literally) was the BB&T building, specifically its possible conversion into another downtown hotel. Following a major backlash to the effects of the hotel industry in the last election, Council faced the question not just of approving that specific project, but of deciding under what circumstances — if any — the city would accept more hotels.
A first step
To start things, Council moved up a waiver of fees for the overhaul of Lee Walker Heights, the oldest of Asheville's public housing developments, to the beginning of the meeting. Last year, the Housing Authority of the City of Asheville — the agency that manages a system housing more than 3,100 people in 1,500 units around the city — put out a request for plans to redevelop the aging complex. Now it's going forward in partnership with non-profit Mountain Housing Opportunities and local governments. The first step of that involved financing: asking the city to waive half its fees so it could more easily apply for state tax credits.
The goal, according to its advocates, is to replace aging public housing in disrepair with a new mixed-income development that would still house every current resident that wished to return and expand the city's affordable housing supply at the same time. Both HACA and city officials have noted that if the project's successful, it could prove a model for overhauling the rest of Asheville's aging system.
"This redevelopment is very much in the preliminary stages," Mayor Esther Manheimer said. "This is one of the first big hurdles for the Housing Authority and Mountain Housing to submit the application and begin the process."
But the move also comes in the context of major controversy over a shift in how public housing is financed and administered. Combined with a history, both locally and nationally, of displacement from previous programs like urban renewal and HOPE VI, some residents have expressed mistrust about overhaul plans in general.
While the change last year was ostensibly made to put the cash-strapped public housing system on more solid ground, critics asserted that it was done without sufficient transparency and might even open the way to privatization given that much of the land public housing sits on is now prime real estate. A spike in evictions in the years leading up to that change only served to heighten tension further.
In the week before the meeting, a petition asking Council to delay any approval until the process for redeveloping Lee Walker and overseeing HACA changed considerably garnered over 100 signatures.
"There's still a lot of unknowns and there's still a lot of questions and this City Council is interested, as far as I can tell, in understanding the opportunities here," Manheimer continued. "But we're not at the point yet where we're fully committing to a financial partnership other than the consideration of waiving tap fees."
While HACA had requested a waiver of all fees, the city opted to only waive half initially, though Manheimer noted that could change when the final proposals came to Council for approval.
Council member Cecil Bothwell noted that citizens had reached out to him with concerns and he wanted the Lee Walker project linked to Biltmore Avenue and the surrounding community. But with that looking likely, "I'm strongly in favor of this idea."
"There's been concerns about folks being able to return, concerns about folks being included in the process," Council member Gordon Smith noted.
Public housing officials asserted that requirements from the federal Housing and Urban Development and their own practices assured that the decisions about the redevelopment were being made according to the residents wishes and that as many as wished to return would be offered spots in the new development.
"Anybody who's living there at the time will have the right to temporary relocation benefits and the right to return," David Nash, HACA's chief operating officer, said. "There will not be any screening requirement for them to return to the new development after it's completed."
Council member Brian Haynes wondered how many residents HACA expected to come back.
"I think we have put the word out on this right of return strongly and repeatedly enough to them that many of them will," Nash claimed. "I don't imagine it will be 100 percent. Some people, after they find another place to live, will be satisfied and won't want to relocate again. But a lot of the people we talk to, the reason they want this project to succeed is because they want to move back to the new development."
"I definitely don't think 100 percent will come back and doubt very seriously that even 50 percent are coming back," Haynes replied. "I have also major concerns that when these people are displaced that they'll have great difficulty finding housing. So I want some assurances that we are going to find housing for these people, not just promises."
"Yes, we have to find housing for these folks," Nash replied. Residents would have the option of relocating to another public housing development, a chance for a spot in one of MHO's developments without a credit check or a voucher to try to find housing elsewhere.
"That last one is where I could see people running into some trouble, but some people have said they would like to take their voucher and move to another city and we have to honor that request," Nash concluded, with HUD requiring that they find a spot for everyone before demolition began.
After a question from Council member Julie Mayfield, Nash added that only the people there when HUD approved the final redevelopment plan in late 2016 or early 2017 would be guaranteed a spot to return. Right now, 76 households are in the development, down by about 20 from 18 months ago.
"That's quite a bit less than our normal turnover rate, normally we turn over about 25 percent of our units every year," Nash said. "I think people are staying in the development and with us through the planning process because they want to be there."
Some Lee Walker residents also spoke positively about the plans, claiming their development had involved the community and would bring needed improvements.
"We've been part of the process all the way," resident Butch Worthy said. "I'm looking forward to the move towards a new development and if you look at these plans, you will be excited as far as the city's concerned. There will be more room and it will be a safer environment."
"What we've been through is for the benefit housing and to benefit Asheville," resident Joseph Tarrant said. "The people in Lee Walker Heights are asking when they can come back, so I'll say it will be 70 percent of the people coming back. Everybody that lives up there were mostly born and raised there, they want to come back."
Council member Keith Young said he was inclined to move forward with the waiver, but added that there remained "clear concerns that will need clarity at a later date once Housing Authority turns to Council."
No one else from the audience commented, and the waivers passed unanimously.
A new holiday
In recent years Columbus Day has come under increasing scrutiny given the atrocities Christopher Columbus and his crew perpetrated on the indigenous peoples they encountered. In response, some local governments around the country have pushed to instead mark Indigenous Peoples Day. Late last year, the idea was broached for Asheville. Smith proposed it, and now Council was ready to designate the second Monday in October as such, following consultation with Chief Patrick Lambert of the Eastern Band of Cherokee.
Vice Chief Richard Sneed praised the move, and thanked Council.
"We have a rich history in Western North Carolina," Sneed said. "I think it's a very progressive move for you to vote to pass this and recognize indigenous people on this day."
Lambert's chief of staff, Sage Dunston, also endorsed the change.
"I think this is within the color and spirit of Asheville," Dunston said. "To celebrate the contributions of Cherokees and all indigenous peoples is so special, especially considering that this is the ancestral homeland of our people, a culture that's over some 10,000 years old."
Everything old is new again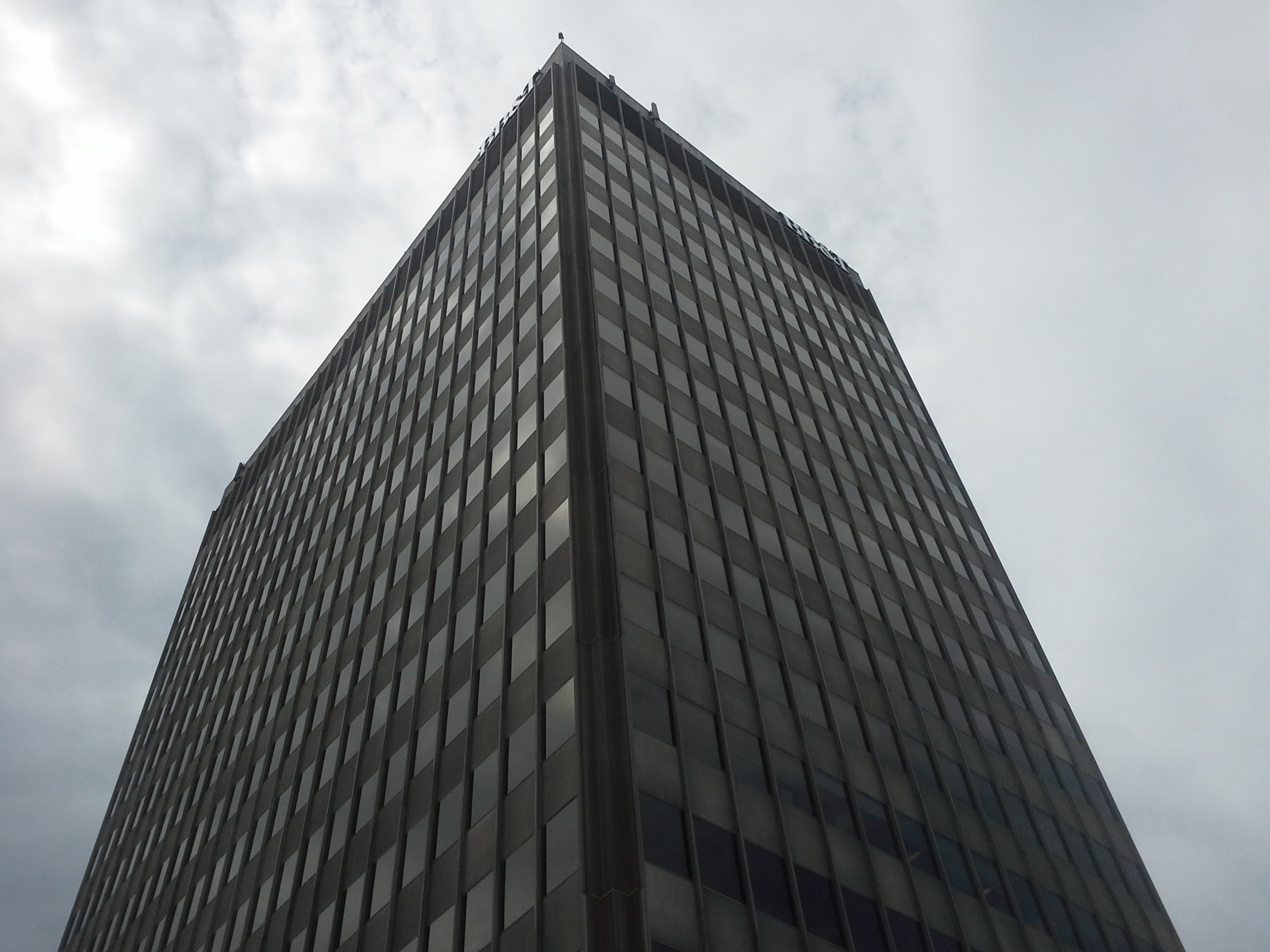 A major feature on the city's skyline, the old BB&T building also never exactly attracted the same love as other landmarks like City Hall or the Jackson building. Built in 1965 and often tagged with epithets like "big, boring and tan," it nonetheless became a part of the fabric of the city, if not always a well-liked one.
In 2014 the Gainesville, Ga.-based McKibbon Hotel Group (which also runs the Aloft Hotel just down the street), partnered with building owner Glenn Wilcox and proceeded with plans to redevelop the commercial skyscraper into a combination of hotels, condos and businesses.
Council tried last year to reach a deal with local hoteliers and legislators to split an increased hotel tax between the Tourism Development Authority, which uses it to market the area, and the city to help fund public services and ostensibly offset some of the impacts of increased tourism. But some of the hoteliers ended up appealing directly to the legislature and, in the end, a hike in the hotel tax went entirely to the TDA rather than the city. City officials were, to put it mildly, not pleased.
On top of that the last election saw hotels a target of public ire for everything from low wages (median wages throughout the hospitality industry are well below the living wage of $12.50 an hour without benefits) to bringing in chain businesses and taking up valuable real estate in downtown.
In the wake of the election results, Mayfield returned a donation from McKibbon. Smith, shortly after declaring his run for a Buncombe County Commissioners seat, declared he would only approve the project if it included "living wages, preference for local businesses and local artists, contributing to the Affordable Housing Trust Fund, and getting on the right side of dedicating a portion of the occupancy tax to the needs of people."
By the time McKibbon's team approached the Council dais, the proposal included 141 hotel units and 39 condos above them, as well as space for several businesses on the bottom floors. It would give the building a significant face lift. The "upper-upscale" hotel project had also, since last year, changed its name, dropping "Nouveau Tower" in favor of "One West Tower."
As for what the conditions for it to get built at all might be, McKibbon's team had some ideas on that front as well. For that matter, so did Council — and the public.
'Steel, glass and synthetic stone'
As he'd come out vocally about his concerns about the project, Manheimer asked Smith if he wanted to precede the developer's presentation by stating them after planner Alan Glines finished summing up the technical aspects of McKibbon's plan to revamp the building in "steel, glass and synthetic stone."
Smith started by citing the hoteliers "end-run" around the attempts to get the hotel tax to go to "public needs," adding "we know that the hotel industry has a wage problem" and was contributing to the affordable housing crisis, forcing out local business and straining infrastructure.
"Asheville is made up of people, families trying to live their lives: we are not a brand to sell," Smith said. "The BB&T is ugly, but the exploitation of the city of Asheville is uglier."
But his concerns, he added, "could be ameliorated" if McKibbon would consider the "greater context" in living wages, affordable housing and pushing for some of the hotel tax to go to the city.
John Cook, representing the hotel company, asked Ashevillians to consider the positive changes the revamp would bring to the city skyline.
"What you have before you tonight is a rare opportunity," he claimed. "It's rare when there's a project that's proposed to redevelop, repurpose and take an existing building and turn it into a mixed-used, 21st-century activity center."
"There is no organized opposition," he added, despite multiple presentations and meetings. Council had "no plausible reason to deny this project and to deny the citizens the opportunity to have a different-looking BB&T building."
Then Chair John McKibbon, whose family's run the hotel company for three generations, took the podium to make his pitch.
He noted that he lived in the Town Mountain neighborhood "a good bit of the year" and had "met and talked to a lot of you in the past." Following the controversy about the hotel issue, he added that "I love the fact that this is one passionate community."
McKibbon noted that the issues — living wage, a lack of housing — were also national ones, and laid down his terms: living wage jobs for full-time workers, $250,000 to the city's affordable housing trust fund, $750,000 for sidewalks and public space in the area along with a revamped skyscraper.
"At the Aloft Hotel we've been voluntarily paying the living wage for almost year, so we are going to do this," McKibbon said, adding that the project would support local artists and "we are not going to have national chains in this building, we're absolutely going to get local or regional tenants."
Claiming that the housing shortage was also linked to a larger, national issue — rather than tourism or the hospitality industry — he asserted that his company would, in addition to the housing fund donation, start to work with Mountain Housing Opportunities and other groups to develop more affordable housing.
"It's a whole community issue we need to work on together," he said. "We're going to help grow the supply of affordable housing and we actually feel like we can make Asheville a national model to address this problem."
While McKibbon praised the much-maligned TDA (he serves on its board) and volleyed back against calls for a moratorium on hotels until the tax situation changed, he also said he was open to change.
"I promise you: all the hoteliers out there would love that," he said. "That's not the solution. Tourism is our primary industry here, it always has been."
He claimed that the TDA had put $3.8 million in recent years towards projects benefiting the city, but he added that "we do need to modify the tax, the way it's structured" and asserted he pushed unsuccessfully for more of the hotel tax revenues to go for infrastructure rather than marketing and "I will continue to support that."
"I know we've got new Council members and you've been asked to slow the growth, I know the issue about no more hotels," he continued. "But really, you've got a lot of work to deal with this issue. This one hotel tonight is not going to solve this issue."
'I've tried to give you something to take back to your constituents. A year from now, a few years from now I don't think people are going to remember that you voted for a hotel. I think they're going to remember that you voted for a project that put money into affordable housing and repaired a building that has been an eyesore for many years."
Different reactions
It wasn't just McKibbon's crew backing the project either: a number of downtown residents and notables also endorsed it as an example of how to do a major hotel correctly.
Downtown resident (and former president of the Downtown Association) Kim MacQueen asserted the project fit Asheville's commitment to values like a living wage, affordable housing, local business and support for the arts.
"The BB&T building is an opportunity for us to demonstrate that we don't just mouth those values, we embrace and support them," she said, asserting that the living wage would "have a ripple effect to other hotels and large employers in Asheville."
"You'll always find people who don't want to do anything, who want no change because that's easier," she continued. "But the McKibbon project is change for the better for all of Asheville."
Public Interest Projects President Pat Whalen asserted that, having worked with McKibbon before, he was "impressed with their flexibility and their willingness to work with our community."
"John McKibbon has personally made a huge commitment to Asheville, he's become a great contributing member of our community," Whalen said, praising his commitments on this project. "In many cities a project like this, perhaps not now but in another decade or two, would end up needing local tax money to make the changes that are needed."
But in this case, he asserted McKibbon's overhaul would help downtown and be "a great example of what the private sector can do to help our city" even as the public sector grappled with other challenges facing the city.
Realtor and Downtown Commission member Byron Greiner asserted McKibbon's renovation was "wonderful," would revitalize the area and add more in-demand high-end condos.
Former planner Dave Nutter waxed poetic, claiming McKibbon's proposal would "restore beauty to a blighted skyscraper" and comparing its importance to the center of a city in the ancient Roman Republic.
Not everyone was so enthusiastic.
"If there was a neighbor's meeting, I missed it," downtown resident Linda Brown said. "We did have an election on Nov. 3. People do not want more hotels."
"We need an audit of the hotel tax to see where $14 million a year goes to, including salaries and bonuses," she continued. "Hotels and condos widen the income gap between the rich and the poor. When I say poor, 50 percent of Asheville makes less than $15 an hour. Hotels and condos will drive up land prices, rent and they pay low wages."
Brown concluded that the project represented gentrification, plain and simple.
From there the exchanges became more of a debate, and sometimes a sharp one.
"Students bring articles into my office and classroom weekly, saying 'why the hostility to hospitality?' Hospitality is part of your solution, not part of the problem," Walter Rapetski, an instructor in A-B Tech's culinary arts program, asserted. "Our graduates average between $25,000 and $54,000 out the door."
Rapetski lauded McKibbon for funding scholarships and helping A-B Tech's program in multiple other ways and claimed the hospitality industry in Asheville provided more opportunities for women and minorities.
"There needs to be an end to the acerbic conversation in the paper," he said. "I wanted to bring students here tonight but they're all working. They're bartending, they're serving and they're going to make $100 to $150 tonight waiting on tables. Where else can you do that to help get through college?"
"I wish the tone of the conversation would change and I wish there was a little greater awareness of what our industry does provide," Rapetski added.
But Andrew Fletcher, a local musician and member of the Buskers Collective, saw negatives in the proposal as well as positives.
While Fletcher praised the donation to the affordable housing trust fund and some of the other things proposed, he observed that "the reason I think we see a man like Mr. McKibbon saying them is because the people of the city have asked you to flex your muscles and get people who want to develop here to do things like this" and thanked the city for doing so. As a busker, he was also happy about the sidewalk and public space improvements.
"But there's a lot of holes in this," he continued. "Living wage just for full-time workers? That's a red flag for me. I've played music at the Aloft Hotel. Now I decline playing there because I don't consider it a living wage for myself to play there on Saturday, which is supposed to be my highest paying night of the week. So I would definitely push back on these items."
Scott Owen encouraged Council not to approve another hotel, claiming the proponents were missing the overall problem.
"Right now in Asheville we have a problem which everyone acknowledges: that we are growing our tourist industry too fast," Owen said. "We have seven hotels planned for the downtown area and another eight for Buncombe County. The decisions y'all make in the next year or two, and tonight, will affect the future for many years to come."
"In the same way one car is not to blame for global climate change, one hotel is not to blame for the overbuilding of the industry we have here," he continued. "I don't expect you to deny Mr. McKibbon his hotel, but at some point you're going to have to rein in the industry. This is a good place to start and you have to start somewhere."
Talia Winningham asserted that, with many Ashevillians cobbling together multiple part-time jobs to survive, paying those workers less than a living wage just furthered the problem.
"I'm a college grad living in Asheville. I work two jobs and live under the poverty line and work many odd jobs on the side to make ends meet," she said. "I'm not one to compromise on this issue because I think a compromise is perpetuating the problem this industry has created and has exploited in Asheville on the backs of the people who work here. At a certain point you have to say enough is enough."
"Being someone who works multiple part-time jobs and having many friends who also work multiple part-time jobs, they work those jobs because they don't have living wage in one job," she continued. "So many people are out there working those less than living wage jobs and not able to come testify to you all tonight."
Elizabeth Button, who owns Curate and Nightbell restaurants, asserted that her businesses paid a living wage and offered healthcare and "I'm saying this because I feel a little defensive about the hospitality industry."
She added that she was "impressed" by John McKibbon, didn't think the issues the city was facing should "go on his back" and believed the hotel project was worth approving.
"He's not only offering living wages — albeit to full-time people, but whatever — he's also got a composting program at the Aloft, which I think is incredibly unique in the hotel industry," Button said. "We are really fortunate we have a great brand, there isn't a town that you would think of and a brand doesn't automatically pop into your head. The brand we have here is that you have people who care."
Kevin Westmoreland, owner of Corner Kitchen and Chestnut restaurants, agreed.
"You're going to have a lot of hard decisions over the next couple of years, this is a critical time in our city's history" he said. "What I see from this project is Mr. McKibbon's trying to be socially responsible. You're going to have a lot of projects you're going to have to think long and hard about and you're going to have to turn down or alter or do things that won't make people happy. But this project is not one of those projects"
'The McKibbon standard'
As the discussion turned to Council, most members believed McKibbon's project was worth approval and were even effusive in their praise of the company's head.
"Looking at this project is a little bit different from starting a brand new hotel from ground zero and displacing other things," Vice Mayor Gwen Wisler said. "I think we have to look at this as an amazing re-use of a not very attractive building."
"I don't think it's right to change the rules in the middle of the ballgame and I think the developer has worked with the existing rules," she added, hoping that McKibbon would join the city in pushing for them to get a share of the hotel tax money.
But Haynes differed. He acknowledged "the extent to which McKibbon has compromised and is ultimately presenting a good project," though he noted that the fact that only full-time employees were getting a living wage "troubles me."
"However, the majority opinion I have received from my constituents on the issue urges me to vote against it on the grounds of its contribution to the unnecessary growth of the hotel industry at a time when downtown already seems overrun," Haynes said.
But Mayfield said the city should respect the sentiment of its boards, which had endorsed the proposal.
"Where we disagree with those, we need a really good reason to do that and I don't see that here," she said. "This kind of mixed-used building in our downtown core is the exact kind of building that will reduce traffic."
She added that she'd heard from constituents "don't approve any new hotels until the tax is changed," but that in doing so, it was necessary to get broader support, including among hoteliers and that approving McKibbon's proposal would help.
"The same people are coming back to Raleigh," Mayfiled said. "We need to do some legwork, we need to do some groundwork, we need to build some broader community consensus and we need to be ready in 2017."
"The city will need a lot of allies to make that happen, I'm not sure about the message it sends to other hotelier who would come before us if we say to one of only two hoteliers who are supportive of reallocating this tax 'thank you very much but no thank you. I'm not sure that's the right message."
By passing it, she concluded, it sent a message to other hoteliers that "we have a new base that we expect you to meet if you're going to do business in this town."
Bothwell, who's often been critical of tourism development and the current hotel tax, said he was pleased with this project and thought the whole community would support it if it weren't a hotel.
"The whole city would be cheering for this except for the hotel piece," Bothwell said. "I think it's an amazing project and I'm going to be supporting it."
Manheimer asserted that Council couldn't pass a minimum wage in Asheville (that's a matter of some debate) and that more hoteliers needed to pay better wages. Previously, she noted hoteliers had told her they couldn't pay that rate.
"As the conversations around the room tax proceeded, I learned John McKibbon was paying a living wage at the Aloft hotel" and that had helped drive up wages for some jobs. One of the only ways to put pressure upward on wages in Asheville, she claimed, was "for folks like John McKibbon to lead the way in paying better wages."
Manheimer noted that as Council looked toward making all future hotels come before them for review, "we are going to be thinking about that McKibbon standard: it sets the stage for a new way to view the growth that we're experiencing."
"Anyone who wants to invest millions of dollars into upfitting that eyesore, more power to you," she added.
Smith, despite his earlier concerns, said McKibbon had satisfied his criteria.
"I think with McKibbon's declaration of principles here tonight we're seeing a new day in Asheivlle," Smith said. "I really appreciate that you have heard what the people of Asheville are asking for from its industry leaders and that's the importance of paying a living wage and preferring local businesses and local artists."
"I think this McKibbon standard that's been formed here tonight, with part of that being your willingness to stand and advocate for the people of Asheville in a change to the distribution of this occupancy tax, that is so valuable and so important," Smith concluded. "You have won me over."
With that, the McKibbon proposal passed 5-2, with Haynes and Young against. Under new terms, Asheville will have another hotel and a very different-looking landmark.
About those living wage jobs
The scope of the living wage jobs McKibbon's hotel would offer proved a contentious point at the meeting, but there wasn't a huge amount of information on how many workers that guarantee would cover, how many the project will employ and, of those, how many would be full or part-time.
As anyone who's worked in it knows, hospitality is an industry where many or even most of the workers in a given establishment are part-time, and if McKibbon's promise of a living wage for full-timers was any concession at all was a matter of debate, both at the meeting and after.
A living wage — the amount necessary to make ends meet without public or private assistance — in Asheville is $12.50 an hour without employer-provided benefits or $11 an hour with, according to Just Economics, the non-profit that monitors it.
Given the majority on Council's embrace of the "McKibbon standard," it's likely that this is far from the last time this issue will come up, whether the deal depicted above will become the starting point for formal city guidelines or simply a de facto political understanding between hoteliers and local leaders.
So the next day, the Blade emailed McKibbon, requesting more information to better inform the public. We asked for a breakdown of full-time, part-time and flex workers at the proposed hotel and how much the part-time workers would be paid.
On Friday, we received this statement from John McKibbon:
"While we don't pay the living wage to part-time workers as defined by Just Economics, we do pay them the same minimum wage as our full-time employees, which is $11 per hour. We just don't offer them the benefits unless they work at least 30 hours per week."
Again, we requested a breakdown of how many workers at the hotel would be full, part-time, and flex. The reply we received, from a spokesperson, was: "According to McKibbon, it's too early to disclose this information."
Knowing the project's aways from completion, we then asked for a total number of workers and what rough percentage might be part time. Again, we received a reply.
"Sorry, they cannot disclose."
—
The Asheville Blade is entirely funded by its readers. If you like what we do, donate directly to us on Patreon or make a one-time gift to support our work. Questions? Comments? Email us.