Time of tension
by David Forbes
July 25, 2016
On July 2, an APD officer shot and killed Jerry Williams. What's known, what isn't and what's behind the public reaction that followed
Above: Demonstrators embrace during a July 9 march through downtown. Photo by Micah Mackenzie
On July 2, around 7:12 p.m., Asheville Police Department Sgt. Tyler Radford shot and killed Jai "Jerry" Williams, 35, at Deaverview Apartments, a public housing development in West Asheville.
Radford was the only officer present. There was no video, either from a body or dash camera. No other officer would arrive until a minute after he shot Williams.
In the days and weeks that followed, Radford's killing of Williams became a topic of major controversy and protest. The APD claimed that they suspected Williams of firing shots at Pisgah View Apartments and had pursued him to Deaverview. But eyewitness reports — at least the publicly known, on-the-record ones — are either uncertain or even denied that he was displaying any weapon at all; one witness claimed Williams had his hands up and was surrendering. In the absence of video clearly showing what happened, uncertainty and different accounts have swirled around the community as the APD turned the matter over to the State Bureau of Investigation.
Days after the killing, Williams' family and local activists demanded answers and declared that they doubted the police's account. Since that time, nightly vigils in downtown and outside the police station have continued. Meetings of the police board have been packed with community members and seen frank questions about problems and divides over policing in Asheville and late last week a protest occupied the APD lobby for 30 hours. All this takes place in a city that remains measurably segregated along racial lines and where trust in local institutions, especially the police, is further frayed by problems that have festered for years, even decades.
The reaction also comes amid national controversy over the recent killings of Alton Sterling in Baton Rouge and Philando Castile in St. Paul. Some of the circumstances are different. Unlike the cases of Sterling and Castile, there is no video of the killing itself, partly due to a "backlog" that the APD claims prevented some of its officers, including the public housing unit, from having body cameras on as planned and the fact that Radford's car lacked the dash cam some APD vehicles have.
While Williams' death is recent and the exact circumstances remain uncertain, the response and the suspicion many in the community have displayed about the official story have their roots farther back, in both national and local issues, including the fraught recent history of the APD itself. Now, Asheville grapples with questions of what happened in a few fatal seconds alongside the weight of problems that have continued to worsen for many, many years.
Conflicting stories
With an SBI investigation ongoing, the APD has declined comment on many of the specific details of the shooting, other than responding to questions about the lack of body or dash camera footage and reiterating their initial accounts. Those accounts have also shaped the media narrative, of Williams' killing or the "officer-involved shooting," as some reports have called it. That particular term is a piece of police jargon that there's good professional reason for journalists to avoid (locally, some did and some didn't). Throughout this piece, and in any future piece, the Blade will only use the term when directly quoting those who said or wrote it.
The first police statement was from Lt. Gary Gudac as press caught word and arrived on the scene at Deaverview. As quoted in the Citizen-Times first account of the shooting, Gudac claimed APD officers had received a report of shots fired at Pisgah View, located Williams vehicle as the one suspected in the shooting and followed, witnessing a female in the passenger seat struggling with Williams. His vehicle eventually stopped in Deaverview.
To clarify a misimpression that's developed over the course of the many discussions about his death, Williams' vehicle was not directly pursued from Pisgah View. In the original July 2 911 call, a Pisgah View resident tells dispatchers about "a man out here with a big rifle" firing shots at his neighbor who later pulled away down Granada Street in "a white cadillac." That caller, and another in a separate, shorter call, said the shooter was a black male but didn't note any other identifying details. Later, warrants state that Radford saw Williams' vehicle on Blue Ridge Avenue off of Haywood Road, about two miles (and a roughly 8-minute drive, depending on traffic and speed) away from Pisgah View, believed it to be the same person and vehicle involved in the shooting, and followed him from there. According to those same warrants, Williams' vehicle was a 1990 white Chevrolet sedan.
When pulled over in Deaverview, Gudac declared, Williams refused to leave the vehicle and "displayed a gun, at which time an officer used deadly force."
"The officer was in fear for his life," he added.
But, as the same Citizen-Times report noted, witnesses in the aftermath disagreed or didn't confirm the police's account. One, Karen Nunn, witnessed the shooting from her home and claimed that while Williams was striking the female passenger in the car (members of his family later questioned this detail, claiming it would have been drastically out of character for him) and did not initially comply with commands to get out of the car, he was not carrying a gun and had his hands in the air to surrender when Radford shot him.
"He surrendered and the cop shot him six times," Nunn told the Citizen-Times. "I heard pop, pop, pop, pop, pop, pop. It was devastating." Another resident, who heard the shooting, asserted that the APD left Williams' body there for over an hour rather than seeking medical attention (according to APD radio traffic, EMS was called about five minutes after the shooting). The day after the shooting, some Deaverview residents talked about organizing a petition protesting the killing.
A witness later told the Blade that they saw Radford's vehicle pull into Deaverview after Williams'. Shortly after, the witness claims, they saw a person moving around inside the vehicle and Radford aiming a weapon from behind the passenger side door of his vehicle and shouting commands. The witness couldn't tell, from the distance they were at, where Williams' hands were and they didn't see Radford fire the fatal shots (they estimated six to eight), though they heard them.
Tasha Norman, the mother of the woman in the car, told reporters that Williams had left her home with her daughter and her daughter's children about 15 minutes before she heard of his death.
Williams had no record of violence, and no criminal convictions except for a 2012 misdemeanor for possession of stolen property.
Neither Deaverview or Pisgah View were unfamiliar to Radford, 30, who's been with the APD since 2008. He was part of the department's public housing unit, according to a roster of the unit's members obtained by the Blade last May, before being promoted to one of the sergeants overseeing West Asheville this April.
"FOR IMMEDIATE RELEASE" the first official police account of Radford's shooting of Williams declared as it went out to the public at 10:25 p.m. the day Williams was shot:
Today at approximately 7:00 p.m. the Asheville Police Department responded to a call for shots fired in the vicinity of Pisgahview [sic] Apartments. While enroute officers were provided with a description of the suspect's vehicle and while on-scene the vehicle was located. After attempting to stop the vehicle the suspect fled the scene and a pursuit ensued. During the pursuit officers witnessed a female passenger in a struggle with the driver. Police continued to pursue the vehicle into Deaverview Apartments where the vehicle came to a stop. The officer began giving the driver commands and when the suspect displayed a weapon, deadly force was used.

No additional injuries were sustained by the passengers of the vehicle or to officers.

The State Bureau of Investigation (SBI) is on-scene and will be investigating the incident. In addition, the Asheville Police Department's Professional Standards Division will be investigating the incident to determine that policies were followed. Per Asheville Police Department protocol the officer involved has been placed on Administrative Leave pending investigation.
Those are, technically, two separate inquiries. An administrative review could find, for example, that Radford violated the department's rules even if the SBI investigation doesn't result in any criminal charges. At a later meeting, APD Chief Hooper would assert that forensic investigation of the crime scene was immediately turned over to the SBI. That organization estimates that the inquiry could take up to three months, though on July 19 a spokesperson for the state agency declared in a Citizen-Times Q and A that most of the interviews were complete.
What was not emphasized in the initial reports was that Radford was the sole officer present when he shot and killed Williams. When asked about the lack of dash cam footage by the Blade, APD spokesperson Christina Hallingse clarified on July 14 that Radford's car didn't have a dash cam, and that he was "the only officer on scene at the time of the shooting. An additional officer arrived on scene approximately one minute after the shooting."
The day after the shooting, the APD identified Williams and Radford. The next day, Hooper released the following statement:
It has come to my attention that there is misinformation circulating in the community regarding some of the circumstances in the Saturday, July 2 officer involved shooting at Deaverview apartments.


The incident is currently under investigation by the State Bureau of Investigation. We are fully cooperating with the investigation and cannot release specific details. However, I would like to clarify information originally released.

Mr. Williams was armed with an AR-15 assault rifle. Shell casings were recovered in Pisgah View apartments where the initial call for service for shots fired originated and the weapon was recovered from Mr. Williams at the scene in Deaverview.


Any death represents a loss to the community and is particularly devastating for members of the family. We are asking for the community's patience and help as the SBI continues their investigation. Anyone who witnessed the incident is urged to contact the State Bureau of Investigation (SBI) at 828-654-8901.
On July 5 WLOS reported on the radio traffic surrounding the event, with shots fired (by Radford) at 7:12, more police arriving shortly after and EMS called shortly afterwards, with an ambulance arriving around 7:21 p.m. That same report also contained a longer interview with Hooper speaking on the killing, where she claimed Williams had, after a short struggle with the woman in the car, "grabbed an AR-15 and the officer used deadly force against him." A picture published by the Citizen-Times showed his body laying, uncovered, beside what appears to be a black rifle, but it is unknown exactly what happened before the photo was taken.
Indeed, asked about the necessity of deadly force and if Williams was pointing the rifle at anyone, Hooper told WLOS that uncovering the "piece by piece, exactly what happened" details is the point of the SBI investigation. "We just don't have all the details of everything that happened."
Any investigation completed by the SBI would go to District Attorney Todd Williams, who on July 5 issued the following statement:
It is important to determine what happened last Saturday night competently and accurately. Therefore, a thorough investigation may require a significant amount of time.

In this case, as in all cases, I pledge to conduct a full and fair review of the investigation.

While a thorough investigation and review of the file may take time, I expect to make a determination without unnecessary delay.

The same rules regarding a District Attorney's public comment and the release of information in any pending matter apply in officer-involved shootings. Several factors, including ethical obligations, the integrity of the investigation, privacy concerns, and statutory requirements are all relevant in determining what information can be released.

In deference to preserving the integrity of the investigation it is my opinion that further comment at this time would be improper, just as it would be in any other pending investigation.
As key questions remain unanswered and key details unknown, widely differing accounts of what happened on July 2 continue to swirl around the community. At the vigils and protests that followed Williams' death, the following flier has circulated: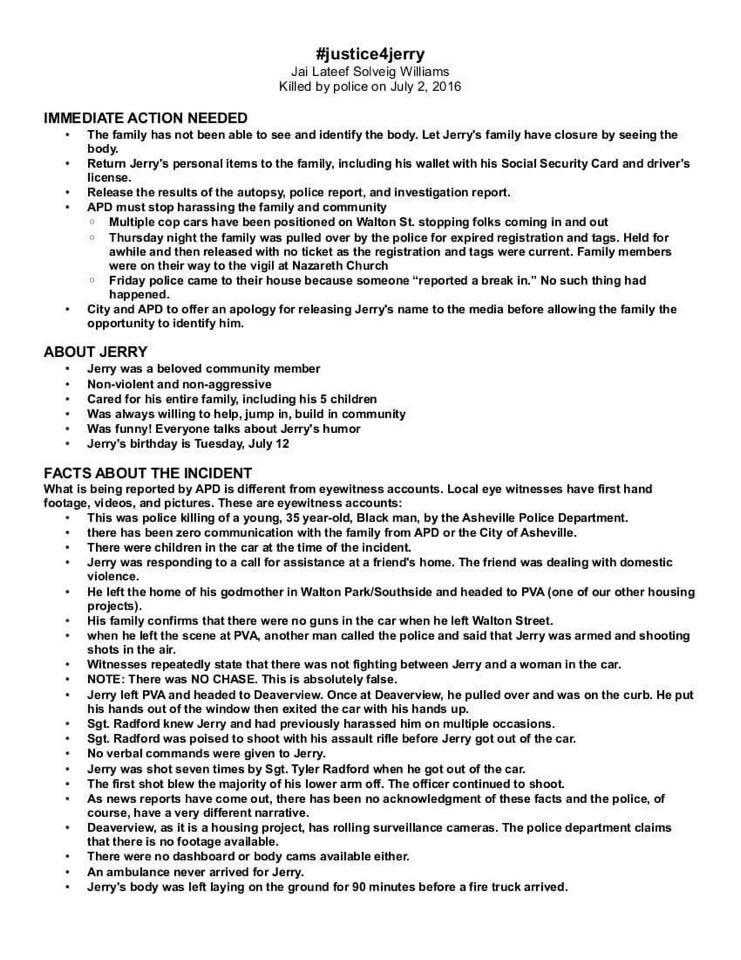 Use of force
Like every department, the APD has rules on the use of force, including deadly force, by officers, rules that are supposed to govern when they can and can't open fire, strike, tase or restrain someone. On July 6, after releasing the current policy upon requests from multiple media, including the Blade, the department released it to the public on its website. Here's the core, revised last year:
B. Officers may use less lethal force when and to the extent they reasonably believe it necessary to effect a lawful objective, arrest or prevent the escape of an individual in custody, or defend themselves or other persons from the use or imminent use of physical force.

C. Officers may use lethal force upon another person only when necessary to defend themselves or a third person from what they reasonably believe to be the use or imminent use of deadly physical force. 1.3.2

D. Officers may not use lethal force against fleeing felons except to defend themselves or a third person from what they reasonably believe to be the use of or imminent use of deadly physical force. 1.3.2

E. Employees will receive a copy of this policy and instructions in its content prior to taking the oath of office as a police officer. Instruction on the use of force will be given to all officers at each firearms training session.
It forbids warning shots "in any situation," as it does ramming vehicles and "firing into a building when the person fired upon is not visible." The rules have the following provisions for first aid:
Officers shall render appropriate medical aid after the use of any lethal or less than lethal weapon on another person. 1.3.5

1. After the use of a lethal weapon, officers shall immediately contact communications and request EMS. Officers shall render all possible first aid within their level of training until the arrival of EMS.

2. After the use of a less lethal weapon, if the person is unconscious, incoherent, or does not appear to be in full possession of their faculties, officers shall immediately contact communications and request EMS. Officers shall render all possible first aid within their level of training until the arrival of EMS.

3. After the use of a less lethal weapon, if the person is conscious, coherent, and appears to be in full possession of his faculties, officers shall inquire if the person needs any type of medical assistance or has sustained any injuries. If the person complains of injury, officers shall immediately contact communications and request EMS. Officers shall render first aid within the level of their training until the arrival of EMS.
If police find someone dead on the scene, the N.C. Office of the Chief Medical Examiner has rules for the removal of their body:
A death will be reported to a medical examiner by any person who has knowledge of the death or who finds the dead body. Usually this will be a law enforcement agency, rescue squad, State Highway Patrol, funeral home, emergency room or private physician. The medical examiner should make a rapid initial evaluation of the reported death to ascertain whether he/she should assume jurisdiction over the case. The medical examiner should tell the reporting party promptly what to do with the dead body. The body should not be removed from the scene of death until the medical examiner has authorized the removal. If an ME plans to go to the scene to view the body this should be made clear to the notifying agents and the ME should respond promptly. Law enforcement officials may authorize removal in emergency situations.

The ME should make arrangements with law enforcement agencies, funeral homes, and hospitals in the area to facilitate the prompt disposition of the dead body. The medical examiner may direct that a body be removed from the scene to a more convenient repository for detailed examination at a more convenient time. Most cases will not require the medical examiner's presence at the scene of the death, and the law does not require a scene visit. The ME should make a special effort, if at all possible, to visit the scene of all homicide deaths, and to such other scenes of death as may contribute to a better understanding of the case. If the medical examiner does not visit the scene, the information about the scene, how the body was found, etc., must be obtained from law enforcement, EMS personnel or others having such direct knowledge.
It is, however, not uncommon to put a sheet or covering over a body.
Blank screens
So far as the public knows, the police account of Williams "displaying" a gun is, until more evidence comes forward — and citing the SBI investigation, the APD has revealed few further details — based primarily on the word of the officer who shot him, with the publicly known witness accounts in some cases differing drastically. In a case like this a video, clearly showing the actions of both Radford and Williams at the time of the killing, would shine immense light on the situation. In this state and others, such footage has shown if official accounts differ from what actually happened.
In a bystander video obtained by the Blade and filmed less than a minute after the shooting, a police vehicle can be seen near the entrance to Deaverview and a voice heard shouting "don't move, put your hands up, keep your hands up." About 20 seconds later another voice screams, but the words, if any, are impossible to make out. About a minute into the video, two other police vehicles arrive, quickly followed by four more and then another, unmarked police vehicle.
If there's footage of the shooting itself taken by a neighbor or onlooker, it hasn't emerged yet.
But there is, according to the APD, no body or dash camera footage.
That came as a surprise to some of the public, and it was a big question in the shooting's aftermath. Body cameras were among the early demands of the first Black Lives Matter demonstrations that happened in Asheville after Mike Brown's killing in Ferguson. The Buncombe County Sheriff's Office adopted them for all patrol deputies and some jail deputies last year, along with rules about access to the video.
Earlier this year, Asheville City Council took up the issue as part of its annual budget, eventually dedicating $142,000 to rolling out the cameras. In a meeting in March, Hooper told Council that they would start with the public housing unit before spreading them to downtown unit and then to the department's patrol officers.
But that came with a catch, one that some activists said negated much of the potentially positive effects the cameras could have: the city moved to keep the footage secret except for those directly involved in the recording. This was partly done under an incredibly broad definition (and legally controversial) of what constitutes records of a criminal investigation, which are exempt from public records laws.
"It's really about balancing the privacy of the people in the videos with our need to have accountability for officers," Hooper said at the time. "We do have to restrict who has access to them."
That stance, later mirrored in state legislation that restricted access to the footage without a court order, has been sharply criticized by journalists, newspapers and civil liberty organizations as running counter to basic government transparency. The law goes into effect in October, but the local policy means that even if the state law didn't exist, the APD are unlikely to release body cam footage.
Locals also criticized Asheville's earlier policy when it rolled out as well.
"I can't help but feel somewhat disturbed by the fact that we'd be paying $300,000 or maybe $500,000 for body cameras in which the public had little or no access to the footage being recorded, so the mechanism for accountability is not there," Michael Collins, an activist with Showing Up for Racial Justice, an activist group supporting Black Lives Matter, said.
The body cameras were supposed to roll out around the start of the fiscal year on July 1, with the first 10 going to the public housing unit ("they were chosen to pilot this program because they have a lot of citizen contact and a lot of enforcement activity," Hooper said at the time) and an additional 50 to other units and patrol officers. But according to Hooper's remarks at a police board meeting, along with further information revealed by the APD after inquiries from the Blade, that didn't happen. At that meeting, Hooper noted that despite ordering the cameras in March, they hadn't arrived in time to be deployed (though it's not clear Radford would have had one even if they had).
In an email reply to the Blade's inquiries, Hallingse revealed more about why the rollout was delayed.
"The Asheville Police Department placed the order for the body cameras back in March of this year," she wrote. "However, Taser International (the company that produces the body cameras) was experiencing a backlog due the high demand from law enforcement agencies across the country to implement BWCs and they were awaiting for approval from the FCC for their "axon signal" technology (the "axon signal" is a Bluetooth installed in the police vehicle that turns on the BWC when emergency equipment is activated)."
"As a result of the backlog and technology approval, the Asheville Police Department did not receive the equipment until the week of June 27th. Promptly, upon receipt our Law Enforcement Technology Specialist began preparing the equipment for deployment."
If the equipment was received around June 27, why weren't body cameras rolled out by the time of Williams' shooting?
"There was only a one week time frame between receiving the cameras and deploying them for trial use," Hallingse claims. "Once we received the cameras we had to inventory all the equipment (docking stations, cameras, etc.) and get the equipment setup at the individual resource stations."
"Our Law Enforcement Technology Specialist that oversees the Body Worn Camera program is a civilian position and was therefore was not in the office from Saturday, July 2nd through Monday, July 4th," she continues. "Upon his return the cameras were deployed and put into operation."
But body cameras aren't the only way to monitor officers' actions.  that are supposed to be activated whenever they interact with the public (like, say, if they start pursuing a vehicle). But Hallingse notes that due to the cost (about $5,000 apiece), only 84 of the APD's 234 vehicles have dash cameras. Radford's wasn't one of them.
Behind the tension
While much of what happened in those key seconds on July 2 remains unknown the reaction to it, the anger, the heartbreak and ensuing vigils are very much shaped by what's happened over the past decades.
Part of that reality is national, its sharp edges defined by issues of institutional racism, police brutality, split-second decisions and when the oft-repeated invocation of "the officer was in fear for their life" is justified and when it isn't.
Along with the litany of names — Mike Brown, Eric Garner, Tamir Rice, just to name a few — national statistics point to what underlies the roiling tension that are tapped into every time an officer pulls a trigger and takes the life of a person of color, because they show that those split-second decisions often have drastically different results for different populations.
While consistent reporting and tracking of police shootings in the U.S. is notoriously lacking, a 2014 ProPublica analysis of FBI data covering over 12,000 police killings over three decades found that "young black males in recent years were at a far greater risk of being shot dead by police than their white counterparts – 21 times greater." Across that same time, about 44 percent of those killed by officers were white, despite non-Latino whites making up a majority of the population. A Washington Post report last year found that, over a year of police shootings, nationally, "black men were seven times more likely than white men to die by police gunfire while unarmed."
While those issues affect cities across the nation, Asheville's own specific histories with both racism and the APD also play a role in the public reaction to Williams' shooting.
Despite the L.A. Times' nigh-blind declaration in its subhead for a recent photo series on the aftermath of Williams' death that this city "was never about race," de facto segregation remains a major problem here, as highlighted in historical research on the particularly brutal impacts of redlining on whole neighborhoods and the documentation of the State of Black Asheville report. On key measurements like minority business ownership, for example, Asheville lags far behind not just national averages, but those of N.C. as well. Asheville saw its first Black Lives Matter demonstrations in late 2014, along with increased discussion about the findings of State of Black Asheville and the history of both racial segregation and the efforts to fight it.
The APD has also had a fraught recent history, with recent years seeing major rifts both internally — often between department leaders and the rank-and-file — and with the public.
In 2011, APD Chief Bill Hogan resigned after news emerged of missing guns, drugs and money from the evidence room, a scandal that revealed massive problems with a key part of the APD and a lack of oversight that allowed a bad situation to metastasize. The former evidence room manager, Lee Smith, would later plead guilty to federal charges of stealing drugs from the evidence room and was sentenced to 10 months in prison.
The evidence room scandal wasn't the only controversy the department was facing at the time, as a lawsuit by a former APD officer, Cherie Byrd, revealed that Sgt. Eric Lauffer of the APD's drug unit had sent her harassing and blatantly racist text messages. In its response to Byrd's lawsuit the city admitted that he'd sent the messages but denied any legal wrongdoing. Despite the backlash and the city having to pay Byrd a settlement, Lauffer kept his job, just garnering a demotion.
A yearlong search brought in William Anderson as Asheville's first African-American chief the next year, but he rapidly faced major problems and divisions over everything from his handling of an accident involving his son to major dissension among some officers over what they claimed was an autocratic management style and inappropriate retaliation for criticism and legal action.
Anderson had supporters too, who claimed he was making hard but necessary reforms, while his opponents countered that he had made the department dysfunctional and morale low. Forty-four officers signed a letter sharply criticizing Anderson and calling for the department's leadership to change. An analysis of law enforcement pay, done by the Blade in conjunction with Ashvegas, revealed that compensation for rank-and-file officers, especially experienced ones, lagged behind the sheriff's office, though those problems predated Anderson's tenure.
As those public controversies roiled the department, Anderson resigned in late 2014.
The search for a new chief, however, revealed major doubts from some of the public, with skepticism particularly high at a meeting attended by many leaders in the African-American community (some, though not all, felt Anderson was treated unfairly) and city staff.
Over the course of the last two decades, the department actually became less diverse, and is currently much whiter than the community it represents. In 1998 black officers were 10 percent of the police force, by last year they made up just seven percent. By comparison, 13 percent of Asheville's population are African-American.
The APD's own reports for citizen complaints show a steady decline in recent years, dropping from 103 in 2008 to 57 in 2014. However, they also showed a clear racial disparity, with African-Americans filing over a quarter of the complaints against APD officers.
Numbers from the statewide Open Data Policing NC project, measuring records stretching back to 2002, reveal significant disparities in searches and stops by the Asheville Police Department as well.
White drivers were more likely to be searched in the course of a DWI, but for all other offenses and especially for the most common traffic violations — seatbelt violations, expired registration  — African-American drivers are more likely to be searched by the APD, sometimes overwhelmingly so. Black drivers pulled over for exceeding the speed limit, for example, were searched 232 percent more often than white drivers pulled over for the same violation.
Despite those increased searches, white drivers stopped in Asheville are slightly more likely to carry drugs or contraband, according to the same report.
Jerry Williams also wasn't the first black man killed by the APD in recent years, though those shootings usually didn't garner the same level of public outcry.
In 2006, Lacey Pickens was shot by the police and later died on Smoky Park Highway. The APD claimed that he was trying to strike officers with his vehicle. Pickens' widow, Kecia White, would later claim at one of the rallies after that she believed the police had used excessive force and that he was not armed or attacking them when he was killed. Ron Moore, the district attorney at the time, sided with the officers and found Pickens' killing justified.
In 2013 A.J. Marion was shot and killed after a foot chase near the Meadows Apartments, with law enforcement claiming he'd been firing a gun. During that chase an officer declared over the radio to "forget giving commands" and "if he even points that gun or even turns, shoot him."
The APD officer who killed Marion, never identified to the public, did not face charges following the SBI investigation into his death. After the SBI presented its findings, Moore again declared that the officer was justified, claiming that while Marion had dropped a gun earlier in the chase and was unarmed when he was killed, "no one knew that at the time." The district attorney also refused to release the SBI report.
Some of the debate has extended to the APD's response to victims of crimes as well. During both the earlier Black Lives Matter protests and the ones after Williams' death, for example, the case of April Pickens, a mother of five who reported missing in late 2011, was raised as an example of unequal treament. Some of the activists asserted that local law enforcement had put relatively little effort into finding her versus its efforts to find missing white Ashevillians.
Beyond general departmental tensions, relations between the APD's public housing unit and Asheville's African-American community have been particularly fraught at points.
In early 2015, a civil service board hearing revealed that one officer of that unit, Jonathan Collins, had spit (on or near was a matter of debate) around Rico Jackson, a teenage public housing resident. At the hearing, Jackson asserted that Collins frequently harassed him and other residents. Then-former Chief Anderson called the officer's behavior "inhumane," adding he believed it had merited termination but didn't feel the civil service board would back such a punishment. Collins appealed the 320 hour suspension without pay that Anderson had handed down, but the board backed the APD and said Collin's penalty was justified.
Last March the Residents Council, elected by public housing residents, and several local civil rights leaders publicly called for the unit to be disbanded entirely, asserting that it led to harassment of citizens while failing to respond quickly enough to shootings and other crimes where police help was required.
Kendra Latham, a Residents Council member and Pisgah View resident, asserted that "I've never been helped by the police," that her children were scared of their presence and that she'd seen residents patted down just for walking out of their houses. Council Vice President Iindia Pearson said the money should instead go to jobs training and improving the area.
In the course of the discussion, after some board members and then-interim APD Chief Steve Belcher disagreed (he stated the unit mainly had a "perception problem") the residents and activists walked out of the meeting entirely, with Residents' Council President Sir Charles Gardner and others claiming they didn't feel their concerns were being taken seriously. Later that year, the police commission added a representative from public housing (currently Gardner occupies the seat).
The same month, a report by Matrix consulting, based on interviews with APD officers and civilian staff, found that major internal issues had continued through multiple chiefs.
"It gets down to a lack of leadership and a positive culture within the department," Matrix's Richard Brady said. "By leadership, we're not just talking about the chief, but captains, lieutenants, sergeants, anyone who has a leadership role within the department."

Officers, Brady added, felt that there was inconsistent discipline and promotions, a lack of accountability, an "us vs. them" culture, "just a lot of finger pointing and not a lot of taking responsibility," a lack of training for managers and a lack of transparency within the department. The officers also believed, however, that this didn't affect their interactions with the public.
Hooper came into office last summer promising a new approach, to lead the department out of its woes and address the concerns of both officers and the public. The public housing unit was re-dubbed the "neighborhood enhancement team" and, Hooper told the Blade in an interview early in her tenure, refocused on community relations and building connections with housing residents. Over the ensuing months the public infighting stopped, at least for the moment, and many from both the larger community and the police force seemed to welcome the first months of Hooper's tenure with varying degrees of enthusiasm. In October she was garnering headlines like "Asheville police chief has made leaps and bounds."
Last December, Hooper joined Sheriff Van Duncan and Green Opportunities' Sheneika Smith (an occasional Blade columnist) and Jay Hackett at Congregation Beth Israel. for a frank discussion about issues of race and policing. There, Hooper sharply criticized the actions of the Ferguson police, which a Department of Justice investigation found to be endemically racist, especially when it came to extorting money out of citizens by racking up multiple fines for incredibly minor violations. Hooper said that the realities of the level of corruption and bias in that department "appalled" her.
"Maybe some of us walked around with our heads in the sand," Hooper said of her and her professional colleagues awareness of the level of racism and malfeasance in some departments, and added that they had "a lot to learn."
"Our officers have to be 100 percent accountable," she later emphasized, and promised that there would be consequences for misconduct during her tenure.
However, Smith questioned the very basis of the current policing system, saying it was built around racial injustice at its core, had been for all of American history, and required a fundamental change. "Black lives do not matter in Asheville," she said, pointing to the numbers in the State of Black Asheville report.
Hackett also emphasized that, as an African-American man in Asheville, he had encountered some of the same issues the reports on Ferguson revealed, though he was reassured that Duncan and Hooper were appalled by that policing system.
"If we think our situation is isolated from Ferguson, we are blind," Smith later added.
Hooper admitted that issues of segregation and tension weren't absent from Asheville either, and that despite the lack, so far, of Ferguson or Baltimore-style upheaval, the ground might be a lot more fragile than many believed.
"We're naive if we think a riot can't happen here."
Temperatures rise
"It will not stand!"
"No more!"
"Leave us alone!"
"Stop killing us!"
Williams' cousin, Sharon Pearson, shouted those words, often while in tears, on the morning of Tuesday, July 5, as about 70 people gathered in Pack Square echoed her. She and other family and community members were visibly distraught and aggrieved.
Priscilla Ndiaye, chair of the Southside Advisory Board, told the Blade that day that she saw a community desperate for answers amid a deep lack of trust in the city's institutions, especially the police.
"There's no tears I have left," DeLores Venable, one of the organizers of the Black Lives Matter local, told the assembled crowd.
"This keeps happening," she said. "This happened 30 years ago and it's happening today."
It wasn't only the press and passerby that were watching. A small group gathered by the Fraternal Order of Police present to support Radford and the APD. Separately, sheriff's deputies watched from in front of the nearby courthouse.
On the roof of the jail deputies also looked down on the crowd. Some believed they were sharpshooters and were appalled that such a level of force would be called up for a peaceful demonstration. The Buncombe County Sheriff's Office later released a statement claiming they were there "to observe the crowd size and movement," and "did not have long guns on their person."
The next day the family, supporters and media gathered again in the same place, though this time it took the form of a more press conference-style event, with a smaller public turnout. Activist and minister John Barnett was up from Charlotte, claiming that Radford had used excessive force and failed to render proper aid to Williams after the shooting. Citing his experience in the Jena Six and other civil rights cases, he noted he was working with the family to secure a civil rights attorney. "America's got some problems," he said, tying Williams death to that of other African-American men at the hands of police over the years.
In a statement from Williams' mother, Najiyyah Avery, read at the rally, she asserted that "excessive force was used. This was unnecessary, unjustified shooting. My son was not a man of violence. He was a had-working American who took care of his children." She didn't believe her son "would have ever pulled a gun on a cop," had never received any contact from the police or city leaders and now feared a cover-up.
"This is not the first time that a black man has been killed by a police officer, this is becoming a pattern."
'The division is intense'
That same afternoon was also the scheduled meeting of the Citizens Police Advisory Committee, which oversees the department and its policies. Carol Hallstrom, a committee member and former civil rights activist and attorney, suggested that the board waive its usual agenda to discuss Williams' killing. The room was packed.
"All of our stuff has been turned over to the SBI, it is their investigation entirely at this point. I'm not privy to their information," Hooper said. "We called them out to the scene, they conducted their own forensic work and they will be looking at the entire body of evidence."
Until the SBI completes its investigation and the D.A. makes a decision, Hooper said, "we're at an impasse" and the APD was unable to reveal more information about what happened July 2.
Hooper claimed she'd met with an array of community organizations (she listed the NAACP< the Racial Justice Coalition, Inter-Denominational Ministerial Alliance, Baptist Ministries Union, Christians for a United Community, the Residents Council and the Stop the Violence Coalition) the day before and claimed she was ready to reach out to community members.
Committee member Allison Scott said she felt the police presence, including the watchers on rooftops and wondered "at what point does protection become intimidation?"
"I don't believe we had very many people over there at all," Hooper said, but added that the sheriff had the responsibility of keeping the courthouse secure.
Hallstrom noted that Hooper had repeatedly emphasized talking to people directly rather than simply through organizations, and said she'd invited people to attend the meeting.
"There's a grieving community, there's a community in much pain, there's a grieving mom and family," Amy Cantrell of BeLoved House said. "Chief, I encourage you to reach out to them."
She added that Asheville could be a model of addressing issues of racism and police violence, and was concerned about the mentality of fear and assumptions about public housing and African-American communities she'd heard expressed by APD officers in the past.
"I fear that sometimes these mindsets are then played out in some really horrific ways."
"What justifies the fear? They're not doing nothing to y'all except maybe looking intimidating" Paul Howell said, asking how many APD officers in the past decade had been killed by black men (none, the sole APD officer who died in the line of duty during that time died in a car accident). "Everything has been taken out of the neighborhoods."
"Asheville needs to be brought back to life. We're like second-class citizens because we stay in the projects, many of us can't afford to stay anywhere else."
While he said that police brutality and excessive force weren't as bad as what he'd encountered growing up, "it's getting worse and until somebody puts their foot down, it's going to get a whole lot worse and you're going to see a whole lot more deterioration in the communities."
"Already there's a perception APD isn't being completely forthright," Jonathan Robert said, noting that Gudac's original statement was that Williams had "displayed" a gun.
"This seems to be standard operating procedure, establish the official rationale and narrative before the body is even cold, long before the results any investigation."
Hooper's follow-up statement, he claimed, only served to further "muddy the waters" noting that a gun was recovered at the scene.
"There's a radical difference between an individual displaying a gun at police and that weapon being recovered from a vehicle out of reach," Robert said. "One is a justifiable shooting, the other is not."
He said that even if the APD had their planned body cameras on, the body camera policy that the "notoriously secretive and scandal-ridden" APD pushed and Council adopted would have kept it secret from the public anyway and he felt the police had already bungled their response to the shooting's aftermath.
Julie Schneyer said that Ashevillians had little trust in the department's process.
"At the end of these processes there are rarely significant consequences for officers who shoot and kill people, especially non-white people, especially black people," she said. "I'm not hopeful this time will be any different, but I want it to be different."
Repeated speakers said they shared skepticism about the state of Asheville and its institutions ability to deal with this issue
"Now my kids start to fear the police again," Shuvonda Harper, a Residents Council member, said. "It's a horrible feeling to know that someone could be killed in your development."
Police, Harper said, needed to actually know people in the communities they patrolled rather than "coming through strapped up, looking like you're looking for something."
"As a young African-American I feel like we're pointed out as 'the bad kids,'" Kynasia Robinson, there with others from the My Community Matters youth program, said. "I feel like sometimes police and other people look at us like they're better than us. We shouldn't have to fear anybody in this world. We all bleed the same."
She saw the situation in Asheville as getting worse and less safe, including when it came to the behavior of the police. "Y'all supposed to protect us, not kill us."
"Some police officers see my skin as an automatic weapon," Marcus Lewis, also of My Community Matters, told the board. "We met with the police department last Thursday, and I felt some trust. But when I saw [Williams] got shot by police when I went on social media, all that trust was gone."
"That could be me tomorrow or the next day, just because I'm African-American."
Dee Williams, a former Council candidate involved in BLM and Ban the Box, questioned the city's response.
"Nobody from City Hall's had the decency to come by, not an elected official, not a police officer, nobody has come to say 'we're sorry,'" she said, adding that issues were systemic and needed a response "all the way from City Council to the city manager."
On that front, she sharply criticized the exclusion of BLM from Hooper's meetings in the aftermath of the shooting and asserted that City Manager Gary Jackson's efforts at racial equity have amounted to tokenism rather than real change.
Anthony Whiteside said that jobs and opportunities for African-Americans in the area had utterly dried up. "As of right now," he said, Asheville's black youth "just think you're going to kill them or lock them up."
As the discussion shifted from the public to the commission, Hallstrom cautioned her colleagues and police of the deep divisions the reaction to Williams' killing had revealed and said there was an immediate need "to heal, not hide" going forward.
"We on this committee have an obligation to look at, with you, 'now what?'" she said. "The city, right now, is in such pain and division, I know from the places I've been in the past few days that the division is intense."
Council member Keith Young, the sole African-American among the city's elected officials, noted that he'd spent his first years in public housing and praised those who'd showed up.
"Some of the same things that you deal with on a daily basis I dealt with as a youngster," but encouraged them not to give up even though "the world can be a harsh and cruel place."
Gardner expressed frustration with the state of law enforcement (he would later say Hooper had been more willing to meet and discuss their concerns than previous chiefs).
"What do you do when you can't call the police for help? No one wants to answer? That's the situation we're in right now," he said. "We can't just pick up a phone and call the police because we're more scared of the police than we are the people in our community."
He criticized what he saw as the lack of a serious police search for the missing Pickens and a lack of engagement in public housing, "if it was in y'all's community it wouldn't be going on for long."
Larry Holt, the committee's vice chair, who last year defended the public housing unit to critical residents, now noted that the programs he'd seen change lives during his previous career working for the housing authority were now long gone, and the situation had deteriorated accordingly. Despite the tensions, he encouraged the attendees to call the police, even if they don't trust them, because "the police need the help of the citizens to protect the citizens."
Hooper admitted that the process of waiting for the investigation results was "tiresome," but that whatever the SBI found, the APD should "thoroughly review" at its use of force policies and would focus on de-escalation. She also admitted that roll-out of the body cameras was delayed due to a "backlog" and "I wish to God we'd had them already."
"We're trying to do the best we can," Hooper claimed. "The facts are what they are and will stand on their own but our response to it is important and your input can certainly help us do a better job."
Day by day, the reaction continued to grow, with daily vigils outside the police department. Just three days later, on July 9, hundreds showed up for a march through downtown, shutting down several intersections in protest.
On July 11, City Council and the Interdenominational Ministerial Alliance called for "an assembly to acknowledge loss and the need for healing" in Pack Square the next day. In a statement, Mayor Esther Manheimer called it  "an opportunity for our community to come together in calm, prayer, and patience in the wake of the officer involved shooting over the July 4th weekend. Please keep everyone involved in this tragic event in your thoughts and prayers."
On July 12, the city released its latest statement:
In an effort to continue sharing information regarding the July 2, 2016 officer involved shooting in Deaverview Apartments, the Asheville Police Department would like to inform citizens of the current status of the investigation.

The North Carolina State Bureau of Investigation continues to investigate the incident. The SBI has control over Mr. Williams' body, his personal effects and other evidence. If citizens have questions regarding these matters or the SBI's process, the SBI has informed us that citizens may contact its field office at 828-654-8901, and leave a message for the case agent, Bret Anders, who will try to respond to all inquiries.

Once the investigation is complete the case will be released to the District Attorney's Office for review to determine if the use of lethal force was lawfully justified. The Asheville Police Department's Professional Standards Division will also conduct an administrative investigation to determine if policies were followed. Per Asheville Police Department protocol Sgt. Tyler Radford was placed on administrative leave immediately following the incident.

In order to keep lines of communication open with the community Chief Hooper continues to meet with members of the Racial Justice Coalition, Inter-Denominational Ministerial Alliance, Baptist Ministries Union, NAACP (Asheville Branch), Christians for a United Community, Residence Council and the Stop the Violence Coalition and other community groups. In their first meeting, on Tuesday, July 5, 2016 she asked that members who are in touch with the immediate family of Jai Williams to help facilitate a meeting with them when they feel ready to discuss the incident with APD. She has also attempted to call Mr. Williams' mother to request a meeting and is awaiting a response. Chief Hooper respects the family's right to privately grieve the loss of a family member and will be available upon their request.
But July 12 would have been Williams' 36th birthday, and the city's assembly was just a stone's throw from where Williams' family and activist had planned a memorial on the Block at the same time (they also set up a fundraiser to cover legal and counseling fees). The conflicting scheduling exacerbated tensions, and when Manheimer came by after the city-sponsored vigil, Williams' family turned her away.
'Our city is never accountable to black folks'
Since then, demonstrations and organizing meetings by Black Lives Matter, SURJ and an array of other groups have continued as the long, unusually warm summer wears on.
On the morning of July 21, about 40 protesters gathered in front of the Asheville Area Chamber of Commerce in a march organized by SURJ, a primarily white ally and support group for Black Lives Matter. It was part of national day of demonstrations on the issue of police violence against African-Americans all over the country.
"We've been told by our black sisters and brothers that they're afraid right now, so they asked us specifically to come here and do justice, that this is not the country we want, this is not the city we want," Cantrell told the marchers. "We live in a very segregated city."
"Things don't have to be the way that they are," Justin Goldstein, the rabbi of Congregation Beth Israel, where the police forum took place late last year, said. He warned of the "gatehouses" built in Asheville to segregate people in the city on multiple fronts.
The marchers unfurled a banner reading "Black Asheville Matters," backed by another reading "Justice 4 Jerry" and moved into downtown, shouting "freedom now" and "no more empty tourism." As they neared the Basilica of St. Lawrence, following a car driven by a protester, an APD car also put on its lights to temporarily block intersections as the march wound its way through downtown. Cantrell had previously directed that if ordered to get off the road and onto the sidewalk, they would do so, but the police did not interfere as the march took place.
There Avery spoke to the protesters via a phone, projected through a megaphone and voiced her demands: charges of murder and hate crimes against Radford. She said she regarded the killing as an act of domestic terrorism that had violated the police's obligation to preserve life.
"Good people of all races must join together to remove domestic terrorists from police forces all over America," Avery told the protesters.
From there, they proceeded towards the police department, where they occupied the lobby and tried to speak to Hooper about their demands. Seven protesters declared that they would sit in the lobby until the immediate demands — Radford's indictment and firing along with a public apology from Hooper  — were met or they were arrested.
The protest had a larger set of longer-term demands as well: an end to violence against people of color, especially by police; "clear, concrete steps" from local government to address the issue; full acknowledgement of the State of Black Asheville; a "public process" to address the city's institutional racism; no funding increases for the APD until "measurable" improvements in racial equity; clear opposition from Asheville's government to the new state law keeping body camera footage secret; full transparency, accountability in the investigation of Williams' death and extensive racial equity training for every officer issued a firearm.
Repeatedly throughout the ensuing day-and-a-half, the protesters returned to a theme of "two Ashevilles," the one that made top 10 lists for tourists and the one that made a different kind of national lists, for housing costs and hunger, problems that hit the African-American community particularly hard.
This particular sit-in civil disobedience tactic isn't a new one in a city where public protest is a common part of the political culture. For years, the We Do campaign would organize similar protests at the Register of Deeds office to push for equal marriage rights. Usually, after a brief discussion with the register about their demands, some of the members would hold a sit-in until they were arrested.
If it had gone like those previous protests, the sit-in would have been over in a matter of hours. A public official would have come down, said something probably similar to what Hooper eventually told media about the demonstrators' demands, some protesters would have remained as part of the sit-in and would have been peacefully arrested and cited on the minor trespassing or public nuisance charges participants in such actions usually garner.
But this time it played out differently. Instead, about an hour after protesters entered the lobby, the APD stopped serving its usual information window.
Protesters repeatedly said they would not inhibit any citizens trying to use services at the police station, and would not inhibit staff from entering or exiting. In one case when the lobby became particularly crowded they agreed to clear out a path to the information window. In others they directed people to a side door where officers were meeting those seeking services or to the call box where they could also talk to police staff directly. Later, the official APD announcement claimed that "the attempt to occupy the main entrance of the building over the past 24 hours resulted in need to suspend the majority of public service from the building, hindering both fire and police department services" and that citizens couldn't access the information window.
Early Friday evening, the Blade asked APD officials to clarify exactly how their presence did so, as well as when and why the APD made the decision to stop serving the public at the information window. So far, we have received no reply.
On Thursday afternoon, Venable showed up and voiced Black Lives Matter's support for the protesters, reiterating that the decision for the primarily white SURJ members to occupy the lobby was intentional and they wanted to press the police to genuinely "serve and protect" their community.
"I don't want people to think this movement right here is a white-led movement, this is a black-led movement with white support," she said. "We have to take this over to City Hall, because they are just as accountable as this system right here."
This sort of protest was overdue, she said, because Asheville didn't have the confrontation with its major civil rights issues to the extent it needed over the past decades.
When she came by again later that day, as the closing time for the APD offices passed and the protesters remain, Venable sharply criticized Hooper as "not available to our black community," and added that she felt Council had also failed to deal with Asheville's issues of segregation.
"When you kill a man, you need to be accountable for what happened, not just sitting in your office acting like it didn't happen," she said. "This isn't the first time and if they don't change their policies it won't be the last, we'll be doing this all over again in a few months."
"We put these people in office and they don't even have the decency to come down here and say 'how can we stop what is happening to your people?' They don't come to our communities until it's voting time," she continued. "We've been dying for years, just dying. Our city is never accountable to black folks."
Instead of city officials or staff reaching out, Venable said, Avery found out about her son's death through "social media and hearsay" and was devastated.
Asked for a statement on the protest action that day, Hallingse simply emailed that the APD would respect their rights and that anyone who had trouble accessing services could call the department's non-emergency line.
No officers or police representatives came down to speak to the protesters about their demands as the afternoon wore on. The closest was Rondell Lance, president of the local FOP lodge and a retired APD officer.
When asked by the protesters about the stats on racial disparities in shootings and arrests, Lance said he couldn't speak to those or speak for all officers. He did, however, say that he felt APD officers were, under the tenure of multiple chiefs, badly overworked and pressured to "get out there and charge people" rather than prevent problems or engage with the public.
He asserted that no indictment could come down until the SBI finished its investigation and reiterated the APD account of Williams' death as fact. Vicki Meath, director of Just Economics and there to personally support the protest, countered that after so many cases where the public had seen videos that directly contradicted official police records, many simply didn't trust law enforcement's account of a shooting anymore.
While some protesters felt the FOP head had come down as a distraction, others said that Lance was, unlike the APD's senior staff, at least willing to talk to them about their concerns. He also expressed his surprise that neither Hooper or any other APD representative had come down to speak directly with them that afternoon, and said he would reach out and try to convince the chief to meet them.
The regular 6 p.m. vigil saw more people gather outside to support the protesters. The hours wore on and the sun went down. Other supporters brought by sleeping mats, pillows and supplies. Buncombe commissioner candidate Jasmine Beach-Ferrara came by to deliver supplies. Cantrell noted, somewhat in surprise, that she felt "abandoned by our city" by the fact that despite the chief's ostensible commitment to dialogue, neither Hooper or any major city or police officials had come by to discuss their demands. She claimed that Hooper's lack of action further damaged community trust at an already fragile time.
As the sun came up the next day the protesters were still there, with legal observers chatting with Council member Cecil Bothwell, who said that he would push for changes to the use of force policy and wanted the protesters to know that someone on Council supported them. As the morning continued, the demonstrators planned to hold a "teach-in" through the weekend if they remained in the space. But in the early afternoon Capt. Stony Gonce and a team of officers came by, asserting that operations had shut down due to the protesters. The sit-in participants again asked to speak to Hooper about their demands.
Gonce claimed Hooper "has a lot on her plate" and instructed the protesters to leave, declaring that police would return around 2 p.m.
Return they did, first to remove the "Black Asheville Matters" banner pinned to the police station (which they handed back to protesters) and then to clear out the lobby. About 20 police officers cordoning off the area and arresting the remaining seven protesters along with a journalist for the Mountain Xpress (most press and other observers that were in the lobby were allowed to leave before the arrests took place).
Hooper spoke to WLOS shortly after the arrests, saying she was willing to meet with the protesters but hadn't received a formal invitation, wished they'd protested in another location and, when it came to their demands, "I'm not going to take some preemptive action on speculation on things that aren't even true." The municipal building, which holds both APD and Asheville Fire Department offices, has been on lockdown ever since and today's meeting of Council's Public Safety Committee meeting saw officers both at the main door and at the entrance to the meeting room.
Asked about the lockdown at the meeting, especially in the context of a peaceful protest, Hooper claimed it was necessary for security and safety and to prevent any similar protests from reoccurring, and that it would last until further notice.
By the time the police took the protesters away Friday it was 20 days since Radford fired the fatal shots.
Those shots ended Williams' life in minutes. The protests and vigils have continued for weeks. The problems underlying the reaction to his death and the ensuing skepticism have festered for decades. But through the conflicting stories, the investigation's questions, the official statements, the anger and suspicion, the heartbroken family and the continuing demonstrations there is one reality that the people and leaders of this city will have to face: the days of "trust us" are done.
—
The Asheville Blade is entirely funded by its readers. If you like what we do, donate directly to us on Patreon or make a one-time gift to support our work. Questions? Comments? Email us.