Lines drawn
by David Forbes
November 19, 2016
National and statewide upsets, a resounding win for the bonds, a commission split continues and more in our election analysis. Also: why the Blade will never normalize the unacceptable
Above: The precinct map of votes for Roy Cooper and Gov. Pat McCrory in Buncombe County.
Well, that happened.
After a week of shock at Donald Trump winning North Carolina and the electoral college, it's easy to forget the results of the local political races, or lose sight of how this election and its aftermath are different from others.
Post-election post-mortems aren't a perfect science by any means, but they can be incredibly revealing. Nov. 8 was no exception. Americans tend to focus just on Presidential races. While those are incredibly important (especially with the far-right and outright bigoted views expressed by Trump and many of his supporters), politics never ends there.
So here's an analysis of what happened in this year's elections. It's important to assess these because as well as shaping the power structures around us, every election reveals vital parts about our own communities.
On a final note, and one I'll get into in more depth below, there is a disturbing trend by some media, including some in local media, to pretend that this was just another election, with another set of policy views and differing camps.
It was not, as the fact that the week afterwards saw more incidents of harassment and hate than the preceding six months (701 and counting). The Blade remains absolutely opposed to normalizing bigotry, whether it's shouted on the street, proclaimed from the White House or buried under calls by supposed liberals to ditch every group that's not straight white men. The press can try to ignore that vital role of setting a hard line against hate. But, as one of the best in our profession put it, "we cannot escape responsibility for the result."
Lags and surges  — Hillary Clinton won Buncombe County. So did gubernatorial candidate Roy Cooper and every Democrat running statewide. No particular surprises there. The county as a whole, and Asheville in particular, generally see results along those lines.
But some of the differences in those totals are revealing. Clinton racked up 74,970 votes here, or 54 percent of the total. Forty percent of Buncombe voters went for Trump and nearly six percent for third party candidates (primarily Libertarian Party candidate Gary Johnson and Green Party candidate Jill Stein, though that giant meteor doubtless nabbed at least a share of the 3,461 write-in votes too).
Despite the considerably stronger third party turnout (more on that in a moment), these results weren't that dissimilar from four years ago, just a percent under the majority that President Barack Obama tallied up during his re-election run, while Trump trailed behind Mitt Romney's 43 percent of the vote by a good deal more.
But Clinton lagged behind Cooper considerably, testifying to the "dump McCrory" sentiment widespread among Asheville voters from center-right Blue Dogs all the way to ardent left-wingers. Cooper racked up 81,347 votes in Buncombe. Cooper, notably, did better across the state than Clinton (right now Cooper leads McCrory by just over 5,000 votes, in an election counting process that's likely to stretch on into December).
Here's the maps of election day results for Cooper and Clinton, respectively: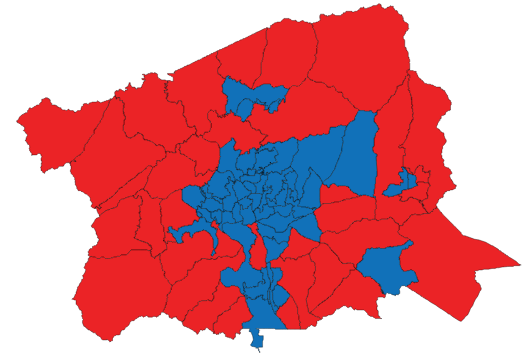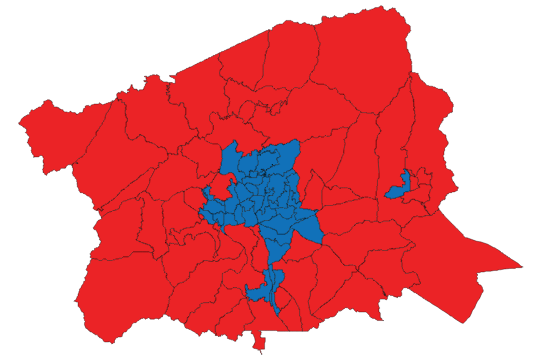 Take those with a major grain of salt: they only reflect voters who cast their ballot at their precinct on Nov. 8. Over half the county's registered voters had already voted before then, and that vote leaned heavily Democratic. But they do point to more widespread support for Cooper than Clinton, and also complicate any neat narratives of a city/county divide here.
But there's more. Democratic U.S. Senate candidate Deborah Ross racked up more votes than Clinton (though by a much narrower margin) and so did Council of State candidates including Attorney General candidate Josh Stein (who narrowly won statewide) and Commissioner of Insurance candidate Wayne Goodwin (who did not).
To some degree this isn't entirely surprising. Asheville (and many of the surrounding counties) were strongly pro-Bernie Sanders during the Vermont Senator's primary run. If there was a left-leaning area in N.C. that was tepid Clinton turf this was it. From the looks of it, her campaign managed to turn some of that around, but not all and – I'd argue – not nearly as much as they could have.
Interestingly, this is one part where Clinton and Sanders campaigns made similar blunders: both didn't give Asheville its due. As detailed in my analysis back in March, while the area gave Sanders one of his best showings in the Southeast, his campaign lagged in reaching out to the considerable local surge of enthusiasm (they didn't open a local office until two weeks before primary day). Similar tactical problems cost him considerably throughout the region, but Asheville in particular represented a lost opportunity; the incredibly strong showing was due to existing grassroots support. Combined with flagging outreach to minority communities, the decision by the upper echelons of his campaign staff to neglect the South, including areas where he had natural bases of support, were the major internal mistakes that may have cost him the nomination.
Clinton did a bit more here at least (the phenomenal tactical blunders in the Upper Midwest are a different story) setting up more local outreach and sending Vice Presidential nominee Tim Kaine and Chelsea Clinton (twice) but the candidate herself did not visit.
Despite her campaign putting major resources into North Carolina and supposedly having a mastery of political targeting, they never made an incredibly obvious move, one that would have been far better than Clinton visiting herself: send Bernie Sanders to Asheville.
It's an interesting what-if: a few hours-long Asheville visit from Sanders during his final barnstorm on behalf of Clinton could have racked up her local support considerably. While it wouldn't have shifted the state, it possibly could have tallied a few thousand more votes throughout WNC, drawing some Clinton skeptics away from Stein or off the fence, and helped close the gap a bit. A little more knowledge of such local political terrain across the state might have made it a closer race, and enhanced the efforts of the many locals in anti-Trump strongholds like this that did end up volunteering to get the vote out.
But, as with so many other times, national campaigns failed to comprehend or adequately communicate with their local supporters. In both Sanders' primary run and Clinton's general election bid, their Asheville mistakes pointed to larger problems with their campaign strategies. That doesn't rule out external factors too, like the voter suppression evidenced by the galling fact that Buncombe had more early voting locations during the first week than Guilford, Wake and Mecklenberg, places with considerably larger and more diverse populations. Elections this close, and the uniquely archaic mess that is the Electoral College, mean that a thousand factors large and small (voter suppression, racism, misogyny, media blunders, Comey, Clinton camp mistakes, bad targeting, etc) played a role, but in Asheville there were definitely ways the Democrats could have run up the margin more, and didn't.
Third parties also had their best local showing in memory. Despite weak central campaigns, Libertarian candidate Gary Johnson and Green Party candidate Jill Stein both saw massive increases in their support from four years ago.
Third party support — in Asheville or elsewhere — didn't cost Clinton the state (libertarians are a right-wing party, so it's likely that minus Johnson, his voters would have gone for Trump or not voted at all), but it's an interesting potential sign of things to come, especially for the Greens. Asheville has local elections next year, and the number of Stein votes would be a solid base for a seriously competitive candidate.
However, despite favorable political terrain, with non-partisan local elections and a left-leaning electorate with plenty of skepticism of the Democratic Party, local Greens have so far failed to mount pushes for local office over the past decade. We'll see if that changes, or if the local third party turn-out was just an election year fluke.
The bonds win (by a lot) — This year saw the first bond referendum before Asheville voters in almost two decades. The $74 million package, split into three separate votes ($25 million for affordable housing, $32 million for transportation infrastructure and $17 million for parks and rec) was intended as a big push to deal with an array of issues, from a worsening housing crisis to neglected park renovations to poor infrastructure.
The politics of the bond got complicated. Asheville's conservatives overwhelmingly opposed it, as conservatives generally go, claiming that the money would be wasted and that the increased property taxes to pay for the bond will be far too high.
From there, things got a little stranger. While the Blade doesn't have our own polling outfit yet, and probably won't for many years (or ever), I made a point to talk to a lot of politically involved people about this topic whenever I could. Take the following with a shaker of salt, but it presents an interesting range of local opinion.
Centrists lined up behind the bonds, with major groups like the Asheville Area Chamber of Commerce and local non-profits backing it. The center-right crowd, lukewarm at best on affordable housing, seemed less supportive of that bond than the others (which they touted as a possible boon to business) but was generally supportive, while centrists and the center-left generally favored the bonds and the specific list of priorities Council laid out (though that list isn't set in stone).
On the left things were a bit more complicated. While skepticism of the list put forward by Council was widespread, left-leaning Ashevillians tend to favor more spending on the matters proposed in general. Most I talked to ended up in favor, citing the need for serious funds to deal with the city's housing crisis and crumbling infrastructure in particular. Some asserted that bonds should have been proposed years ago and only local government's centrist timidity kept them from moving forward with an obvious step (make of that assessment what you will). Affordable housing advocates, for example, have asserted the need for a major bond to deal with the crisis before.
There were, however, those on the left who were against the bonds, believing that local government will just use them to gentrify the city even more. Ironically, the support of the generally conservative chamber for the bonds was actually a negative for those with this view and heightened their skepticism about the city's intent. Notably, when it came to the polls it looks like this group was relatively small.
As it was, the bonds cruised to victory, each one getting over 70 percent of the vote, well in excess of an official poll conducted by the city this summer showing support for all three at over 60 percent. This is a big change in city politics. Council was looking at this as a test case for using bonds, every few years, to deal with some of the city's major goals. If this election was any indication, local voters will see more bonds in the coming years.
It also added another nail in the coffin to the usual brand of Asheville conservatism, its decline brutally clear since no conservative candidate made it past the Council primary last year and reinforced by the bond results. Despite the ardent opposition of local conservatives, the bonds cruised to an overwhelming victory. Barring a political fluke or a serious overhaul of their organizations and platforms, it's unlikely at this point that local conservatives are anywhere near a comeback in Asheville's government.
A commission still divided — Over on the Buncombe County Commissioners' races, the faces changed but (so far) the balance of power has not. Democrats retained at least a 4-3 majority. The party's District 1 candidate, Jasmine Beach-Ferrara, ran unopposed and current District 1 commissioner Brownie Newman beat Republican candidate Chuck Archerd handily in the race for the commission's chair.
Two years ago, Democrat Brian Turner scored a victory against then-Rep. Tim Moffitt in the 116th House District, which has the same boundaries as the commissioners' District 3. But local Democrats didn't run a candidate for the commissioner seat that year. Commissioner David King, a moderate Republican, lost in the primary to Miranda DeBruhl and King's wife, Nancy Waldrop, later lost to DeBruhl in the general as well.
This cycle, DeBruhl's sudden resignation left two seats open in the district and the Democrats fielded two candidates for them: Ed Hay and King, who since switched parties. Hay ran against incumbent Republican Commissioner Joe Belcher and King against Robert Pressley. Neither replicated Turner's success: both Belcher and Pressley won by considerable margins. In an interesting twist from this year, Turner actually ran un-opposed this year, despite his district being the most conservative in the county, due to the inability of the local GOP to come up with a candidate.
The final commissioner race was far more contested. District 2 Commissioner Mike Fryar, the Republican incumbent, faced a strong challenge from Democrat Nancy Nehls Nelson. The district is closely split between the two parties and in the area's state house race, Democratic Rep. John Ager comfortably held his seat. But in the commissioners' race, both Fryar and Nehls Nelson campaigned aggressively. For most of the evening, it looked like Nehls Nelson had a strong lead and would change the balance of the commission to 5-2 in the Democrats' favor. But as the last election day votes came in, Fryar took a narrow lead of just over 300 votes. The race is headed for a recount, but if that margin roughly holds, Fryar will have retained his seat, though just barely.
While not on the ballot, there's also one more commissioner seat up in the air. With Newman set to depart his District 1 seat for the chair's spot, the local Democratic party will meet to appoint his replacement. So far, four candidates — Asheville City Council member Keith Young, former Mayor Terry Bellamy, former Asheville City School Board Chair Jacquelyn Hallum and civil rights activist and retired banker Al Whitesides — have come forward. Any of them would be the first African-American on the board of commissioners.
As for the commission, expect the possibility of even more division than before, as contentious national and state issues come home to roost and, with Newman's win, Asheville progressives likely get three seats on the commission.
No surrender — The other note is one about where and what the Blade will do, and not do, in the months and years ahead.
Media have a vital role to play in working towards a free society, and part of that is to use the truth to show when that freedom is at stake.
Early on in the Blade's formation, I swore we would be firmly committed to "no bigotry and no batshit." I would not pretend that the beliefs of bigots had legitimacy anymore than we would give space to people claiming the earth is flat or ranting about government chemtrail theories. There are, believe it or not, a massive slew of other issues and viewpoints out there are up for debate and consideration, and media must — or should, anyway — draw a line. The best moments in our profession aren't equivocating with evil but rejecting it outright.
One reason hate maintains a foothold in our society is the refusal, including the refusal by media, to treat it bluntly as what it is.
This is because while there's a lot of merit in, for example, laying out different sides of debates over a bond referendum, from left-wing to conservative, treating "do black people have the right to vote?" "do Jews control the banking sector?" or "do trans people get to live free of harassment?" as similar issues is grotesque and evil. Every collapse of a democracy has, as one of its key components, the press choosing to walk the coward's way.
We can already see this trend in the press from the national level, like this NPR coverage, on down to the local. In our own backyard, it's represented by a particularly awful post-election opinion column in the Citizen-Times. While millions across America were wondering about the future of their basic rights and safety, the column's focus turned to the Hagans of High Vista, former hippies who, now firmly ensconced in the gentry, voted oh-so-reluctantly Trump and the horror that they might have a somewhat stressful Thanksgiving when talking to their liberal progeny. Supposedly this offers a "microcosm of America this election season."
Keep in mind, this was at a time when people around the country were having their gathering places burned or vandalized, their lives threatened and swastikas scrawled on their homes. You'll forgive me if I couldn't care less about the level of stress at the Hagans' turkey-fest. I'll go a step farther and say that no one should; there is nothing less relevant right now.
Miraculously, despite this election seeing more blatant bigotry than any in decades the word "racism" only appears once in the column (in a quote denying it was the real issue) and "sexism" does not appear at all, instead we get "a disquieting feeling that they have ceded power and control to minorities" as a description for one of the factors behind Trump's rise, which sounds for the life of me like something a Lost Cause historian would use to gloss over the motives behind establishing Jim Crow or the Wilmington coup d'etat. Trump's words, which endorsed everything from sexual assault to lies about immigrants, now become "a breath of fresh air, an outsider who admittedly is crude but also speaks his mind."
Notably the same columnist, less than a month earlier, was a bit more blunt in calling Trump's behavior sexual assault. That, I suppose, was before the election results.
Just over a week before, UNCA professor Dwight Mullen revealed that the updated research for the State of Black Asheville report had found that the median household income for African-Americans here had collapsed (from around $30,000 to $25,000) during the city's years of tourism boom.
Considering that fact and the harsh reality for minorities around the country and in Asheville, one wonders what "ceded power and control to minorities" exactly looks like, something the column remains pointedly unspecific about. Demands for equal wages? Better life expectancy? Not dying violently? Wanting to vote? That these are considered matters of "identity politics" or "political correctness" but the repeated demands of aging white reactionaries to have everything handed to them and control over everyone are not is an old and ugly trick.
Elections and politics are always complicated, and above I've detailed a number of factors that played into the results of this one. But "racism is a major factor in American politics" is a statement of fact, not opinion. That was the case before the founding of this country and it remains the case now. This election was no exception.
Without a large bloc of supporters, animated by bigotry and rooted in the middle, upper-middle and upper classes, Trump and his ilk would have been a curiosity. But admitting those class tiers have their own horrific subcultures is a fact hits a little too close to home for NPR liberals and gentry commentators, a major reason it was easier to focus on the backwoods contingent and miss the reality next door.
The problem doesn't stop there. The reality we're in now would not have happened without media who betrayed their duty from the very beginning. It would not have happened mainstream political types, from supposedly principled conservatives to self-proclaimed liberals, who refused to take a hard line against hate and a firm stance in defense of those targeted by it.
We see that betrayal combine now in the push to normalize the beliefs of white nationalists, folding everything from KKK endorsements to anti-Semitism under terms like "controversial" or "provocative."
I can speak only for the Blade, but in our pages you will never find the pretense that these are legitimate views worthy of acceptance or debate rather than absolute opposition. You will never find any indulgence of those who would throw whole segments of our society fighting for their existence into oblivion, using "civility" and "pragmatism" as a cover for behavior more honestly named "treason."
The official editorial stance here is that anyone who finds fascists sympathetic can go join them; at least we'll clearly see then what side they're on. We will take every opportunity to instead support and defend our communities, their basic rights, their fights for justice and their hopes for a better future. We will hold up the realities of our city's stories and survival in the face of the lies that prop up the bigotry of our enemies.
Asheville has massive struggles and problems of its own. The Blade has highlighted those — and the many debates and perspectives about how to deal with them — and will continue to. But leaders of any stripe – left or right — that can't bring themselves to draw a clear line here, today, don't deserve any role in this city going forward.
—
The Asheville Blade is entirely funded by its readers. If you like what we do, donate directly to us on Patreon or make a one-time gift to support our work. Questions? Comments? Email us.