About Asheville's Government, a primer
by David Forbes
May 30, 2017
Stemming from the successful 'About Asheville's Government' presentations, here's a handy list of resources, links and context about your local government
Above: City Hall under renovation, photo by Bill Rhodes
Welcome back, readers. I was fortunate enough to engage with many of you during our three About Asheville's Government sessions in recent weeks, giving the presentation at spots in Downtown, Southside and West Asheville. The questions and discussion were also in-depth and engaging. One thing was clear: the people of Asheville want to know more about how their government works and how they can change it.
At those presentations I promised this post, which will provide the slides used along with some additional links and context.
These presentations were enough of a success that we're considering offering one again, and when the decision (along with time and location) are made about that, I'll let y'all know.
I worked from the same slideshow and basic set of facts each time, but each presentation ended up a good deal different due to the perspectives and questions of the locals in the room. If you want to see an example of how it went on the ground, here's a video of the Firestorm presentation, kindly made by some local open government activists:
And here, with handy links, are the slides.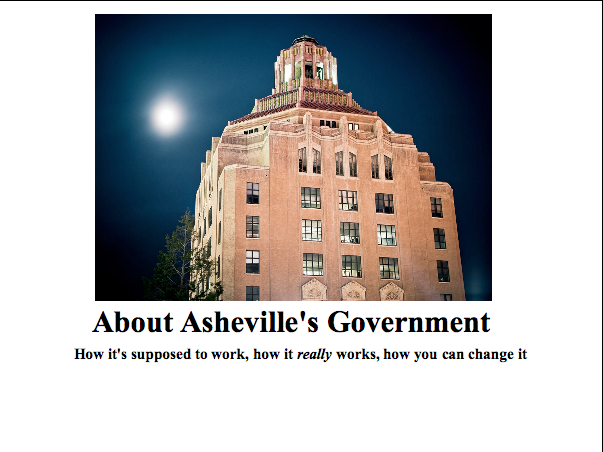 These are the three basic themes of the presentation: how city government works, on paper, under the city charter, how it actually works in practice and how people can act to change it.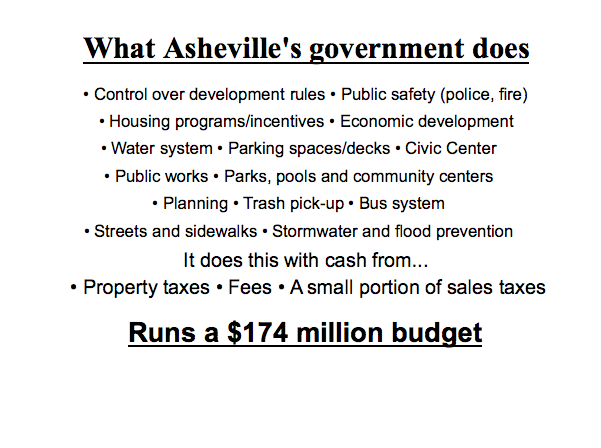 Importantly, the list above is not even a comprehensive list. Even in our small city, the city does a lot.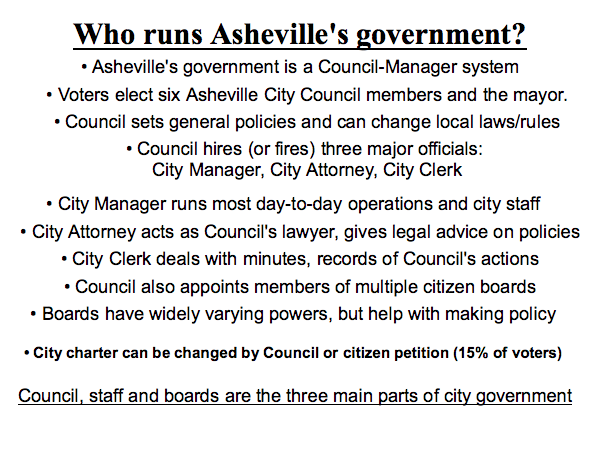 Asheville's City Charter — Despite the legalese, this is an important read for understanding Asheville's government.
Otherwise this section is pretty straightforward. I got a lot of questions about 15 percent provision. Voters can, if they muster signatures from that many of the city's registered voters, put a change on the ballot at the next election for a referendum. If that referendum prevails, it goes into effect. This last happened in 2007, when voters overwhelmingly rejected an attempt to put local elections on a partisan system.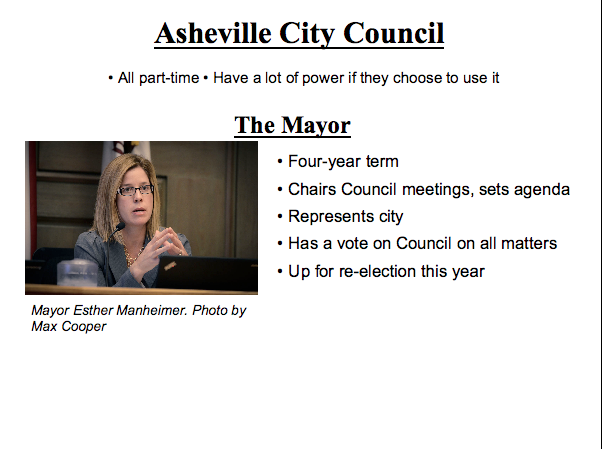 In Asheville — unlike cities with strong mayor systems like New York, Chicago or New Orleans — the mayor is less CEO and more chair of the board. However, they still have real powers over Council's agenda and an ability to push issues forward by raising them with the public. Unlike some cities where the mayor only votes in case of a tie, Asheville's mayor can vote on all matters that come before Council.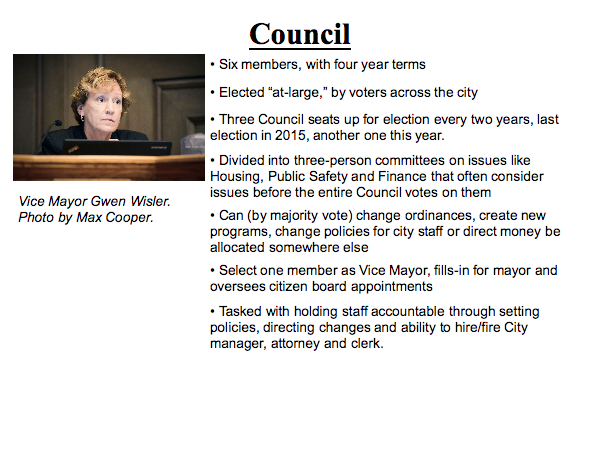 Importantly, the three-member Council committees aren't specifically set up by the city charter, they're just the way several successive Councils have decided to make policy. A future Council could decide to change that system.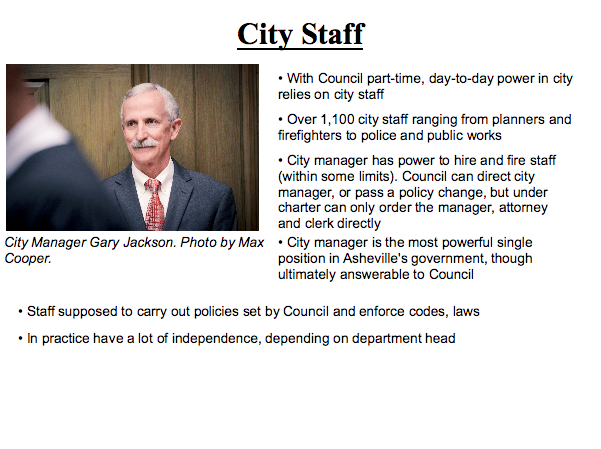 This slide is particularly key, the city manager and staff are incredibly powerful in a Council-Manager system like Asheville's, though Council potentially has a lot of power of its own as well.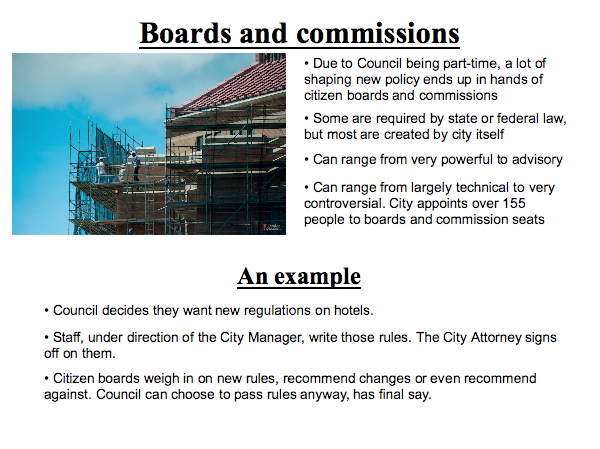 The example of how this all works together is based on a recent and important change in city policy: the city shifting power over a lot of downtown development (and hotels throughout the city) into its hands and away from the Planning and Zoning Commission. It's a useful example because it illustrates a number of aspects about city government, including how boards, Council and staff can all differ and change their positions, as well as the level of power (over development especially, elected officials can potentially use.
Big shift — This delves into how major a change the hotel rules were and the political factors that brought it about.
A neat little conflict — This piece analyzes how Council passed the rules and what some of the implications were.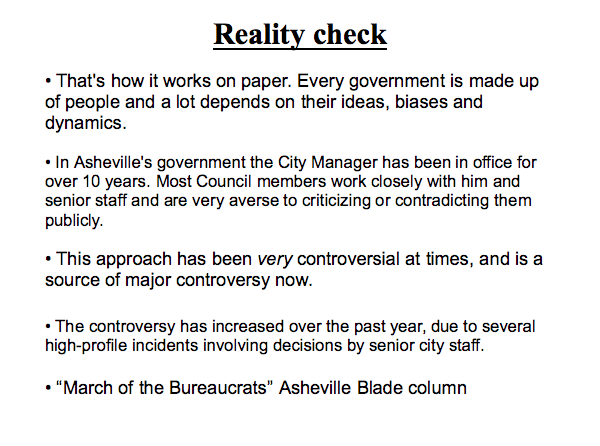 This is pretty straightforward, but I can't emphasize it enough. This is one of the most important slides in the entire presentation when it comes to how local government works on the ground.
March of the Bureaucrats — The column mentioned above, this lays out some of the controversies or problems involving city staff conduct throughout 2016, how senior staff recently pushed for more power and how that push was enabled by Council acquiescence.
About Asheville's politics — A look at how a decade of political changes shaped local government, including what "progressive" means when it comes to Asheville's officials.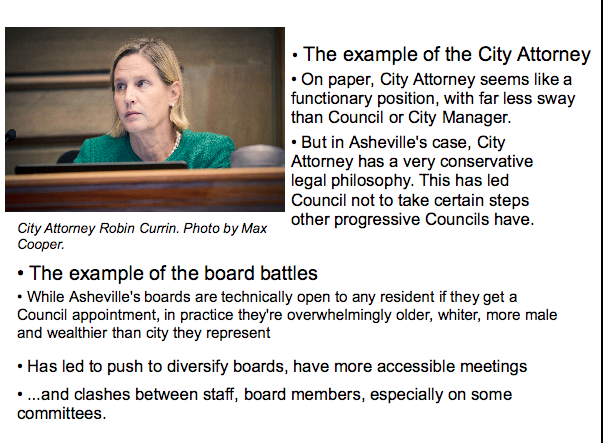 These examples are also really important as they reveal some key differences between how things work on paper and how they work on the ground.
Obstacle course – More on the power of the city attorney, especially some of the effects of her conservative legal philosophy and anti-transparency stances.
Turncoats — While much of this column focuses on state legislators' betrayal of the LGBT population with HB142, the effects of Currin's role on the city not challenging bigoted legislation is also delved into.
Behind the boards — Our joint project with the Citizen-Times last year that delved into the make-up and powers of city boards, especially their lack of diversity.
Police committee showdown — This round-up of the Blade's live coverage of a particularly contentious police committee meeting is a good example of some of the controversies that board's dealt with.
Back to the fire — Our investigation into a major controversy over who runs the transit system. It includes a showdown between committee members and city staff over transit, including a staffer lying about the existence of key documents.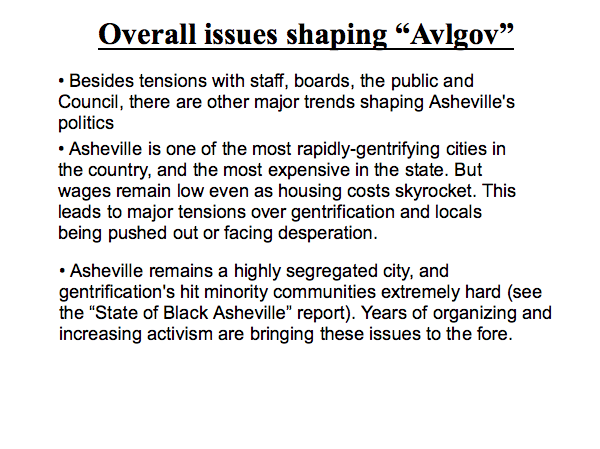 Three furies — I delve into how these three forces are reshaping Asheville's politics in this column from earlier this year.
Red lines — How racist government programs shaped Asheville and how their impact's still fueling gentrification today.
The crisis is real — An in-depth interview with some local experts on the factors fueling the housing crisis.
The State of Black Asheville — containing revealing and harsh numbers about racial disparities in Asheville.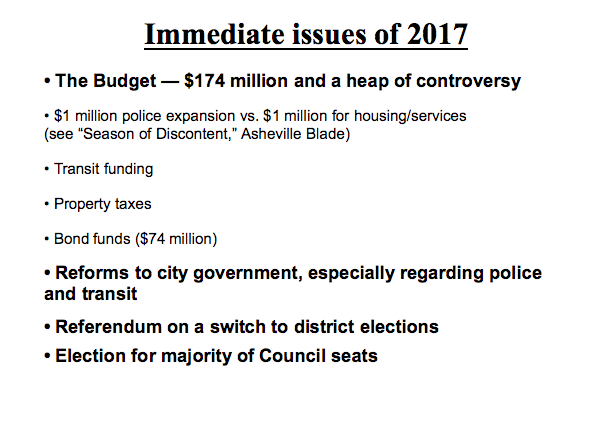 Season of discontent — How the fight over the $1 million police expansion became the defining issue of this year's budget.
Asheville Budget Dashboard — While it doesn't reflect some changes adopted at the last budget briefing, this is otherwise a useful overview.
Reply hazy — Written before the last Council meeting, a summary of some of the overall factors shaping the budget.
A sense of urgency — On how a push for some key reforms to traffic stops emerged, and the key role data showing racial disparities has played.
Here we go again — Some context on the push by GOP state legislators to gerrymander Asheville and the fight over switching local elections to a district system.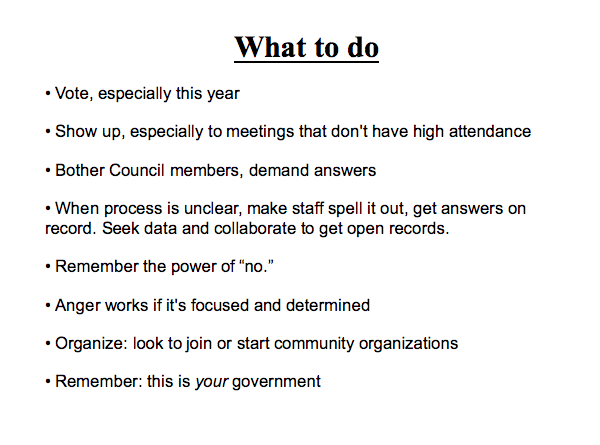 The first three are pretty self-explanatory. One reason the city's talking about the controversial police expansion, for example, is that locals opposed to it showed up in force to multiple meetings and repeatedly kept questioning Council members during an election year, including at a recent forum. Whether one agrees with a specific cause, those tactics have proven effective many times over the years in advancing causes over entrenched political opposition.
Meet Asheville City Council — Contact info, including phone and email, for all Council members.
As for seeking data and records, that's particularly important as well, and is a tactic the local NAACP, open government activists and the Durham-based Southern Coalition for Social Justice have used to considerable effect on the issue of police reforms.
If you can't locate a record, I recommend trying the Sunshine Request service, set up by some of those same open government activists. It both makes the formal request and then makes public the results.
Also, if a process isn't clear, feel free to email me (the link's at the end of the piece) and I'm happy to help seek any clarification I can.
The "power of 'no'" part is key. Entrenched groups and officials tend to tell any group pressing for change that they must compromise immediately. But in multiple cases (like the two year fight over busking restrictions, for example), tenacity on core goals actually works really well. Power's a lot more flexible than our city's current political culture pretends.
As for the last three items, those are in large part why I did this presentation in the first place. While Asheville is an amazing city, it has a slew of injustices that are driving multiple communities here to desperation. They have every right to be angry and, indeed, focused anger moves governments like nothing else. That is often not a bad thing. Every move towards justice needs anger, directed at those with the power to do differently. Organized with others, it is a power itself, and power is the only way change ever happens.
This is, after all, your government. Not the City manager's or Council's. Yours. If you're reading this, I wish you the best in fighting for a more just city, and I hope you find this information helpful.
—
The Asheville Blade is entirely funded by its readers. If you like what we do, donate directly to us on Patreon or make a one-time gift to support our work. Questions? Comments? Email us.