Razor's edge
by David Forbes
October 18, 2017
A night of close and surprising election results show a changing Asheville with harsh political divides and some stark lessons
Well, that was revealing.
Last Tuesday Ashevillians went to the polls to narrow a sizable and fractious field down to two mayoral and six Council candidates. The Nov. 7 general election will pick a mayor and thee Council members.
Already, it's clear that the city's political winds are shifting rapidly. Tuesday's primary showed an increase in voter turnout (especially in South Asheville), a sharply divided field, some razor-close election results and an upset that saw — for the first time in over a decade — an incumbent Council member lose their seat before the general election.
Heading into Tuesday, it was already apparent that this was, overall, the most unpredictable Council race in a very long time, with multiple viable candidates all marshaling cash, volunteers and political clout to try to pull off a victory. Overall it was a hard night for incumbents. While some centrist candidates did quite well, Asheville's left showed more electoral strength than before, while several well-funded, more conservative and gentry-backed candidates fared poorly.
By the time the last precinct was in, the results looked something like this.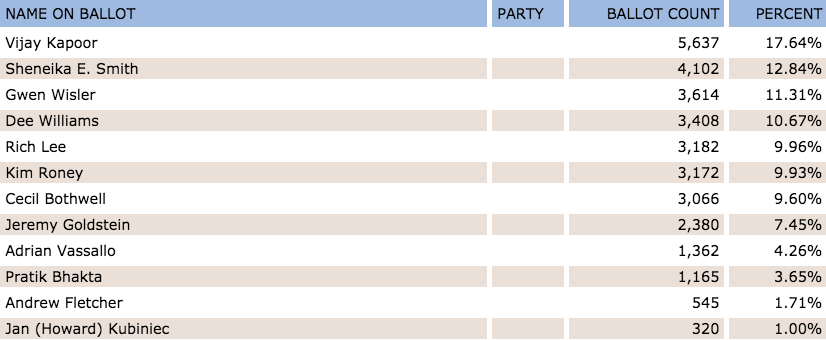 The mayor's race narrowed to down to Mayor Esther Manheimer and socialist activist Martin Ramsey, with Manheimer maintaining a strong lead.
The Council front was far, far more divided. Vijay Kapoor emerged with a strong lead, and his electoral success was one of the main stories of the night. Sheneika Smith also goes into November with reasonably good chances of sitting on the Council dais.
But local elections can shift rapidly, and from there the margins narrow considerably. Just 442 votes separate third place from sixth. Vice Mayor Gwen Wisler ended up less than a percentage point ahead of fourth place finisher Dee Williams, fifth place finisher Rich Lee just 10 (yes, 10) votes ahead of Kim Roney, who came in sixth. Any of those places could switch rapidly in the general election. Even Kapoor and Smith shouldn't rest too easily; a few thousand more voters in a general election can change everything, and the fight for control of Asheville City Council is likely to be a competitive one.
Back in January I predicted that the upheavals this year would make 2015 — when an incumbent lost for the first time in several cycles and some major shifts happened on Council — seem mild by comparison. That proved to be the case. How that happened, and what lessons we can draw from it, is an even more interesting story. Here's seven key take-aways from Oct. 10.
A hard night for incumbents
Manheimer's a notable exception to this. While Ramsey did have some support to draw on based on his activism and stances (as we'll get into shortly, the city's shifted left in recent years), his campaign started late with minimal funding and a small volunteer base. Manheimer has name recognition, political networks built up over eight years in government and an enduring base of support in North Asheville.
But in general the election demonstrated that incumbency on Asheville City Council is just not the assured vote-getter it used to be. In the current climate, it might even be actively detrimental to a candidate's chances.
There are a lot of different factors behind Asheville's political upheaval, but three — issues of equity, concerns about the transparency and accountability of the city bureaucracy and the sharp rise in the cost of living — stand out. Those haven't gone away since the last election. Indeed, they've deepened.
The cost of living, especially housing, is higher than ever — Asheville now regularly makes lists as one of the most unaffordable places in the country — while wages remain unusually low even by North Carolina standards.
On the equity front, the numbers from the latest round of the State of Black Asheville that have been revealed to the public (the full array will be unveiled this weekend) show a city more deeply segregated than ever, with a collapse in black household income in the middle of Asheville's tourism boom. The incumbents running for re-election this time all voted for a controversial police expansion that highlighted issues of disparities in law enforcement, a lack of transparency from APD Chief Tammy Hooper and the under-funding of social services. An effort by the local NAACP, backed by the SCSJ, highlighted major racial disparities in traffic stops and suggested a series of reforms, some already adopted by other cities in North Carolina. While some members declared the disparity situation an emergency, the majority of Council largely punted on these reforms, expressing their confidence in APD leaders who asserted they were unnecessary.
It didn't stop there. Last year Council pointedly ignored the push by LGBT rights groups to join Charlotte and pass a non-discrimination ordinance pre-HB2, then ignored another push to challenge the law post-HB2. That silence continued a few weeks ago, when Council remained quiet as one of the leaders of Tranzmission called on them to act against HB2's equally hateful successor HB142 and spoke frankly about the damage that law — passed with the support of some local Democratic legislators — is inflicting on the local trans community.
Despite a number of high profile controversies involving major mistakes, dismissal of public input and even outright deception, senior city staff didn't just keep their power but have gained even more.
It's not that incumbents can't win or even pull a strong showing (again, see Manheimer) but these factors all contribute to broader public discontent in a left-leaning city. Combined they create a much harsher environment for elected officials when they face serious opposition in a re-election bid.
There were early signs when incumbents (and candidates who backed some of their positions) received harsh criticism at a packed-house May forum on policing. The depth of that sentiment was put into stark relief primary night.
When she first ran for office four years ago Wisler finished a comfortable first. This time she ended up running a close third against Williams, who is notably prominent in efforts pushing for police reforms and highlighting the paltry amount of city contracts that go to minority-run businesses.
Wisler may still pull off a victory; she does have a base of support among North Asheville centrists (who tend to turn out and vote in relatively large numbers) and there's no vice mayor in the past decade that's been more active or influential in shaping city policy. But a supporter of the current "Asheville way" in City Hall is a far more politically risky place to be than it once was, and at this point she's clearly fighting for her political life.
The case of Council member Cecil Bothwell illustrates these changing realities. Two years ago, most political observers would have expected him to win another term, if he wished to, pretty easily. First elected in 2009 Bothwell won his Council seat after a long career as a local investigative reporter, author and activist. Along with his often-rival Gordon Smith (who declined to run for a third term this year), he was one of a slew of liberal Democrats bolstered by the "netroots" activism of the 2000s in their push for local office, in the process handing Council's conservatives a lasting defeat.
He's remained a prominent critic of a number of the status quo policies in City Hall during his two terms. He was against economic incentives for most corporate employers (with a few notable exceptions), an opponent of plans to sell property across from the Basilica (he favored a park or greenspace) and a vocal critic of the rules changes that gave city staff and the Planning and Zoning Commission more control over development downtown (and would, crucially, enable an unpopular flood of hotels).
Following the anti-hotel industry backlash of the 2015 election, Council took back closer control of downtown development, passed stricter limits on hotels and took a sale of the Haywood property off the table, all positions that aligned with what Bothwell had advocated for years. In a hard time for incumbents "I was the dissident, and I was right" is one of the few cards that might enable one to gain another term, if they play it right.
He didn't. Last year, Bothwell endorsed Green Party candidate Jill Stein over Democrat Hillary Clinton in the Presidential election. By itself that might not have caused a serious split. But he didn't just endorse Stein, he also engaged in multiple harsh social media fights with those who disagreed with his position. Regardless of one's view on the validity of those stances, it unquestionably split the base he'd established in the past eight years.
More importantly, this year it was hard to pin down where Bothwell stood on nearly any issue of importance. He was vocally critical of the police expansion, and at the May policing forum said he didn't support it for multiple reasons. He then voted for it without explanation in June.
He tried to tie himself to the new Poor People's Campaign that grew out of modern civil rights movements, especially Moral Monday (he spoke at the Asheville rally in 2014) but also dismissed the severity of the housing crisis in Council debates on the Airbnb issue. His main idea to address the dire shortage was to accept that locals were going to be priced out of the city entirely, scale back spending on affordable housing and concentrate on building a transit system that could bus them in to the town they once lived in. Housing advocates and no shortage of renters found both positions insulting, to put it mildly.
While he repeatedly tried to frame himself as a dissident against the Council status quo — a label that had real accuracy on the hotel regulation and development control issues — he also vocally supported City manager Gary Jackson and right-wing City Attorney Robin Currin in the middle of mounting controversies during the past two years. When pressed about the state of the city, he repeatedly emphasized local government's lack of power to take steps against the many problems facing it. While city government does have some real limits, he overstated them drastically. "We're powerless!" isn't exactly a resounding rallying cry.
As recently as last month he remained silent on the dais when locals spoke in favor of the city taking a stronger stance in fighting the discrimination LGBT Ashevillians are facing from state laws. When he did speak about the issue, at a September forum (at 1:31:11 in this video) it was to patronize and dismiss that push. He then wrote (in the Blade questionnaire) that he supported the actions suggested by those same groups and had "argued for this course on Council." He hadn't.
All those actions had a cost, especially in a year with plenty of left-leaning opponents running vigorous campaigns. When Bothwell lost by just over 100 votes to Roney, the bill had finally come due.
Criticism of senior city staff is no longer taboo
This ties in with the above lesson. Generally direct criticism of city staff has remained out of bounds for most winning candidates in the past decade. Not anymore.
While their perspectives clearly fall on different parts of the political spectrum, candidates who were critical of senior city staff all did pretty well on Tuesday. Though a centrist on many issues, Kapoor was notably far more critical of several city government policies than typical of candidates of that political stripe. He took a skeptical stance on the police expansion and, drawing on his own experience in municipal government operations, sharply criticized senior staff's conduct on the massive and controversial River Arts District infrastructure overhaul.
Williams, active in the past two years in pushing for multiple reforms, repeatedly asserted that primary power needs to dwell with elected officials, called senior staff "hired hands" and compared getting rid of inefficient or un-transparent ones to changing dirty diapers.
Roney, meanwhile, has outright called for Jackson and Currin to be fired for their conduct in office. As a transit board member, she sharply criticized city staff's oversight of the bus system and successfully opposed a controversial deal to keep the system's management in the hands of a private company criticized by union workers and rider advocates for multiple mismanagement problems.
Smith has asserted that Council needs to take a more active role in enforcing its policies on city departments, emphasized that "city staff ultimately serve at the pleasure of Council" and called for a close audit of top officials, a proposal that until this year wasn't even on the table. While Lee largely supported staff's position in the transit company controversy and has defended their actions on the RAD overhaul he's also called for an audit, criticized the current legal department as a "bulwark against new ideas" and asserted that "new council members need to be ready to push back against resistance from city staff."
Among the remaining Council candidates, only Wisler has consistently defended the conduct of the current city bureaucracy. That fact alone is a sign of some serious change.
Airbnb expansion now has far steeper odds
The issue that's split Council most closely during the past two years is whether or not to loosen regulations on Airbnb-style rentals. Property owners who make money off the industry have loudly declared that it's essential for them and they deserve to make hotel industry-style profits in their backyards (or yards they own, at least). But affordable housing advocates have opposed the move on the grounds that the booming industry has helped metastasize what was already a pretty severe housing crisis (whole home/apartments are a hot commodity for tourists, who can bring more into a property owner's bank account than a cash-strapped renter). Some other property owners have also opposed the practice, asserting that it changes neighborhoods for the worse.
The city has taken a two-fold approach, strengthening enforcement of the existing ban on renting out whole homes and apartments on Airbnb (and similar services) in most residential neighborhoods while allowing "homestays" where a resident rents out a room in a home they live in. The approach has attracted critics from multiple angles, including Airbnb critics who feel enforcement is still far too lax and that whole home/apartment rentals still allowed in too many places, as well as supporters who want the rules loosened, especially on accessory dwelling units (planning jargon for garage and basement apartments, etc).
Council has recently considered extending the existing ban on whole homes and apartments to other areas like the RAD and downtown where the practice is currently allowed. The elected officials have continued to split on the accessory dwelling unit question as well. Supporters of loosening that restriction say it won't have much impact, detractors counter those type of apartments are still housing and are concentrated in neighborhoods where illegal vacation rentals have already hit the supply pretty hard.
While the industry is notoriously hard to measure, its impact is massive — Asheville has more Airbnb traffic than the largest N.C. cities combined — and investigations by the Blade and other local media have revealed that many of those who profit from it own multiple properties and overwhelmingly rent out whole homes and apartments (though a much smaller group who rent out rooms in homes they live in certainly does exist).
Overall, the Oct. 10 primary hurt the chances of the Airbnb restrictions loosening further, and increased those of further prohibitions and stricter enforcement against whole home/apartment rentals to tourists.
Among the two remaining mayoral candidates, the vacation rental lobby will find little refuge: Manheimer supports the current restrictions while Ramsey is seeking a stricter ban with harsher enforcement, claiming such a move is necessary to stem the threat the growing industry poses to renters.
Bothwell had historically been the most vocal advocate on Council of allowing more Airbnb-style rentals and loosening restrictions on them. His defeat removes the cause's most consistent supporter.
Meanwhile, five of the six remaining Council candidates favor extending the city's ban on whole home/apartment Airbnbs to downtown. While Wisler didn't respond to the Blade's question on that topic, she's one of the more vocal backers of the status quo restrictions and did vote to extend the whole home/apartment ban to the RAD this summer. Even the candidates who support some allowance for accessory-dwelling units only do so on an incredibly limited trial basis with far sharper restrictions than pro-Airbnb lobby has sought. Those stances may change further — this issue has a lot of wrinkles and a lot can change once a candidate is in office — but right now the winds are not going in the direction.
This shift makes a lot of sense. Renters make up just over half the city's population, and are overwhelmingly against the practice. Too many people driven out of their apartments to make way for Airbnbs or landlords using "well, I could turn this into an Airbnb" as an excuse for why their rent's going up has had taht effect. Property owners are split between those who want to make cash off renting homes and apartments out to tourists and those who dislike its impact on the surrounding neighborhood.
Its advocates have money and influence. They show up at meetings and frequently hector journalists and critics who don't echo their talking point, but in the end the election revealed that they're a relatively small group without much broader public support.
Asheville's left is stronger and better organized — but centrists still have support too
In the mid-2000s, the city's progressives (a loose constellation of centrists and center-left Democrats, with a few more left-leaning types occasionally thrown in) started reliably winning elections against the business and right-wing conservatives that they'd vied with for the previous decade. That shift has largely defined local politics for most of a decade.
But a sizable portion of the city has always leaned well left of that, and that's only increased in recent years (one sign of this was the overwhelming local support for Bernie Sanders in the Democratic primary). Radical politics, of varying perspectives and degrees of effectiveness, have a long history in Asheville. Issues of equity, affordability and transparency have also create an environment where left-wing politics has a more favorable terrain than before, especially as the alliance of elected officials with more conservative senior city staff has steadily pushed many of the progressives rightward over the past eight years.
The national upsurge in left-wing organizing has helped boost networks formed by years of local grassroots activism to create a more formidable local left. This year both the local Green Party (who actively supported Williams) and the Democratic Socialists of America chapter (who endorsed Williams, Lee and Roney, in that order) weighed into the local political fray.
A stronger and better-connected local left was evident in the push against the police expansion earlier this year, which saw left-wing anarchist and socialist groups join with civil rights organizations, homeless advocates and even some downtown business owners to oppose the move. Most candidates who prevailed in the primaries opposed that expansion, many vocally.
Most of the candidates remaining in the race (one mayoral and four Council) also either outright identify as socialists or express public sympathy for those beliefs. One can debate to what extent they actually are, but that identification alone would have been unlikely two years ago and unthinkable a decade ago, when conservative Council members threw around the term as their favorite insult and even the most progressive officials wouldn't touch it. In the past few cycles mayoral challengers have generally been conservative. This time the incumbent mayor's facing a challenge from the left in the general.
Centrists were more split this time, with votes (especially from the center-right) going not just to Kapoor and Wisler but also to Jeremy Goldstein, Adrian Vassallo and Pratik Bhakta. That too, shows how the spectrum continues to shift. A quasi-slate of right-wing candidates was wiped out two years ago, famously showing how far that faction's fortunes had dwindled (amazingly comparing the LGBT pride flag to the Nazi flag isn't exactly a winning position here). Two years later even well-funded, influential center-right and business conservative candidates don't have particularly good odds in Asheville elections, while left-wing urban policy ideas like a rental crisis fund and participatory budgeting are drawing wider support.
So while Oct. 10 was hardly a wave for the left, it showed in real terms that left-leaning voters and groups are more engaged and powerful than before, and the debate has shifted accordingly.
GOTV rules and cash has its limits
Money talks. Money is important in politics, including in local politics. But money, at the end of the day, doesn't vote. Voters do, and this election gave stark examples of why it's more important to have a local base of support and a strong get-out-the-vote operation than a well-stocked war chest.
Kapoor's victory is key here on several fronts. He had enough cash to be competitive, but at the end of the day that wasn't the determining factor. He started with a strong voter base from his work on local issues in South Asheville, but emphasized and ran a capable GOTV effort that drew support from other areas of the city as well.
While a centrist, he was notably critical of the current city government, meaning that he was more likely to get some voters that stayed away from candidates more aligned with the City Hall status quo.
Smith, an Asheville native, has extensive local ties, ones only increased by her civil rights activism and efforts to fight multiple oppressions facing the local African-American community. Her campaign efforts emphasized the rallying of volunteers and knocking on doors over fundraising, and the voting results showed accordingly.
Williams, who finished ninth last election, had the support of the Greens and DSA and deployed volunteers extensively around the city. While Lee didn't have as clear of a geographic base as some of his competitors, he started early by building off supporters he gained during his 2015 run, putting out videos detailing his stances on city policy while coordinating online and on-the-ground efforts to stay competitive. Roney drew on roots in West Asheville and her extensive local activism, and that neighborhood support proved decisive in her victory over Bothwell.
And yes, if you're keeping count, that means all but one of the winning candidates put extensive emphasis into GOTV efforts. It showed, both in their victories and in a considerably larger overall turnout.
So what about the others? The flip side of the above story is who didn't win, because it reveals the limitations of cash and traditional channels of influence in Asheville's current political climate. On paper there were three candidates whom one would think had pretty decent odds of making it to the general, agree with them or no: former planning chair Goldstein, accountant and former Asheville Downtown Association President Vassallo and hotelier Bhakta.
These candidates weren't just somewhat well-off (most Council candidates are), they were wealthy or extremely influential. In addition to his role as longtime head of one of the city's most powerful committees Goldstein's one of the founders of G/M Property Group, a major local realtor that handles properties as far afield as Washingon, D.C. At the helm of the ADA Vassallo played a key role in pushing for major and controversial policies shaping downtown. Bhakta served as regional director for a major hotelier group.
They all raised considerable amounts of cash too. Bhakta had over $14,000 going into the primary, Vassallo over $26,000 and Goldstein raised the most of any candidate in many cycles, raking in over $33,000.
It didn't do them much good. They got wiped out.
Indeed, there are few harsher examples of both the limitation of cash (and the increasing strength of the local left) than their results compared to Ramsey's. With under $1,000 in funding, some appearances advocating socialist policies at forums and some social media backing and endorsements, the mayoral candidate still brought in hundreds more votes than either Vassallo or Bhakta.
Why these three candidates emerged is important. While they had their differences, their supporters and positions had plenty of overlap. After the popular backlash of the 2015 election Council shifted on hotels and development, moving away from a decade of consensus between elected officials, staff, developers and downtown gentry and centering more power back in Council's hands. Vassallo and Goldstein, in their respective committees, had instead pushed for either maintaining or increasing the power their committees had over development.
But despite the mounting popular pressure against the old consensus, it held for so long because it did have its bases of supports, and all three of these candidates were firmly within them. Council's actions had set up a neat little conflict with those groups. During the last part of Goldstein's tenure at the helm of the planning committee, for example, that board often voted directly against Council's proposals for stricter oversight hotels and development. The fact all three candidates ran in the election following the events of the past two years is not coincidence.
While they had — when they went beyond platitudes about pragmatism and experience — some differing policy positions all of those candidates emphasized a story that seemed out of another time: a prosperous, efficient Asheville that they were poised through success and experience to continue. Whatever the intent behind their appeals, to a city with rising rents and desperation, it was an appeal that was at best badly off-key and at worst insulting.
Their campaign tactics would prove similarly out-of-date, but they proceeded with significant business and gentry support, including from outside groups (who sent out large numbers of mailers for Goldstein). Even some conservatives voiced their support for them, though these candidates clearly differed with that faction on some key issues (Vassallo and Goldstein, for example, both supported city government joining LGBT groups' efforts to overturn HB142). Signs for all three popped up around Asheville and Goldstein in particular was the most visible candidate of all leading up to the election, complete with a billboard.
Vassallo began his run for office with a champagne brunch in Chicken Alley, an area once known for cheap housing and a thriving arts scene until local renters were largely expelled due to the explosion of Airbnb-style rentals. It was, to put it mercifully, a stunningly clueless move.
But that cluelessness wasn't new either, a similar dynamic was apparent in one of the biggest political battles of the early 2010s; the fight over the Business Improvement District. That saw a group of downtown gentry, including Vassallo, push for a government-within-a-government, with its own tax stream, board seats reserved for wealthy property owners and (in the original proposal) its own security force. The idea floundered as it became clear that despite its backers influence, just about everyone not directly involved in it hated the BID. Despite initial support from Council, it drew a broad coalition of opponents and lost badly.
Bhakta emphasized his success as a hotelier, which in today's Asheville is tantamount to putting signs up that say "I never want to be elected for anything." G/M Property's ads, gleefully touting big property deals and re-developing the South Slope, sat sour with locals worried about the displacement and damage gentrification continues to inflict, especially as it rolls into predominantly black and impoverished neighborhoods already hit hard by Asheville's ongoing segregation.
In our city's current political era a development position more conservative than City Hall is a tough sell with all the money in the world, but the blindness of these campaigns to exactly how harsh the divides in our city are drastically worsened their position. Their supporters pointed to Goldstein's support of historic preservation, Bhakta's business acumen or Vassallo's work holding events downtown.
But to locals struggling to make rent while also managing to eat saw pretty old buildings full of things they can never afford, the expansion of an industry they hate and parties at the center of an area they feel increasingly excluded from. Emphasis on a candidates' defense of "property rights," especially doesn't amount to much to people who overwhelmingly see those "rights" used to hurt them and people they care about. The outside groups that chose to emphasize that as a reason to vote for Goldstein aided his loss. Even many of the centrists who turned out ended up putting their votes towards candidates with a bit more perception about the Asheville of today.
Bluntly, campaigns reminding people in a city with a massive housing crisis that their candidate is rich and/or well-connected are going to backfire.
To those who might know of the above three candidates — who are perfectly genial in person — through their philanthropic work, the above may sound harsh. But while I certainly have my disagreements with many of their positions, the above is meant to instead observe a reality. Their campaigns, the reactions they garnered and the electoral results they drew are one of the sharpest illustrations of our city's growing class divide I have ever seen. The local social media response to Vassallo's brunch, for example, was deeply vitriolic ("I hope a plague rat crawls in and they all die" was one of the milder responses).
That anger is a key reality of our city today. The sharpest condemnation you will read in these pages is a fraction of the frustration and rage I witness every day. Many of our readers understand that immediately. For those that don't I suggest you start trying. It is real, it is deep and it remains a force to be reckoned with. We have only begun to see its impact.
South Asheville showed up
While some of the other factors we talked about also helped Kapoor's strong showing the 69 percent increase in South Asheville voter turnout certainly played a major role.
Historically, Council members of any political stripe tended to come from well-off neighborhoods in North Asheville. That started to change a bit during the past decade as more candidates from West Asheville (and East Asheville, to some extent) won.
But as conservative political fortunes were wiped out, state legislators began to broach forcibly gerrymandering the city into districts. Indeed, a bill doing so passed the general assembly this year and Ashevillians will vote on such a move in a referendum on Nov. 7 (the bill will go into effect regardless of the result, but a rejection would help the city's prospects in the inevitable court battle). One of the legislature's major claims for doing so was a lack of representation from South Asheville.
Ironically, conservatives' repeated resort to the state legislature to force districts has weakened local support for the idea by associating it with the widely-hated general assembly. Over the past decade in Asheville's politics, candidates concerned that their neighborhood isn't getting a fair shake have instead tried to prevail within the current system by rallying voters in under-represented areas and emphasizing their local work and roots to secure a seat on Council.
Importantly, Kapoor was a harsh critic of the states' gerrymandering proposals, swearing that they weren't necessary to get South Ashevillians involved. From the vote totals, he was right.
The result — a massively increased South Asheville turnout in a year where business conservatives did badly — also upsets the calculations and some of the common political wisdom around the city: that the area leans conservative. That was once true, but times change. In recent years, plenty of centrist, liberal and left-leaning Ashevillians moved to less expensive housing in the area, and ones that were already there have started to become more active in local politics.
If this doesn't prove to be a one-off, then the city's politics have shifted. Even if Kapoor doesn't win, South Asheville concerns will almost certainly see a much more prominent role in debates on the dais due to other politicians also seeking to activate this voter base, and whatever glimmer of a hope right-wing politicians placed in the area just disappeared.
Every vote counts
Especially in local elections, every last ballot counts. As the vote totals came in, the question of Bothwell's political future hinged on five votes, then nine. Right now, just 10 votes separate Roney from Lee.
Despite all the larger upheavals shaping our city's politics, in the end it's communities and social circles deciding to weigh into the fray that determines elections. As the precincts tolled in and Roney and Bothwell repeatedly switched positions, it looked like we might be headed for a recount. But one of the last precincts was Roney's home base in West Asheville, her neighborhood, and as those ballots came in, she suddenly leapt into the lead. It was a reminder that connection and organization shapes our politics.
In the end, reader, this comes down to you.
—
The Asheville Blade is entirely funded by its readers. If you like what we do, donate directly to us on Patreon or make a one-time gift to support our work. Questions? Comments? Email us.